Alumni and Friends --
Strengthening a Powerful Foundation
The School of Journalism consistently strives to cultivate outstanding leaders in the field. Our extensive list of Pulitzer Prize winning alumni is a strong testament to the program's strengths. 

---
Journalism Alumnus Remembered with Scholarship
In 1972, Chet Flippo, while working on a master's degree in journalism at UT, introduced a remarkable country singer to the readers of Rolling Stone.The singer, Flippo noted, had "generally been overlooked," and was "probably the most underrated writer in America today."
That virtual unknown came to be recognized as a country music icon and an Austin institution: Willie Nelson.
Throughout his storied career in music journalism, Flippo (M.A. '74), a Fort Worth native, served as a mediator between country and western music and the more mainstream rock audience.  After leaving his role as senior editor of Rolling Stone in 1980, Flippo published six books, taught journalism courses at the University of Tennessee, and eventually joined CMT as editorial director in 2000 after a stretch as Nashville bureau chief for Billboard magazine.
Flippo profiled a wide variety of artists during his career, including Bob Dylan, John Lennon, Paul McCartney, David Bowie, the Rolling Stones, Waylon Jennings, Hank Williams, and Dolly Parton, among others. He contributed to The New York Times, Texas Monthly, and Q Magazine. Flippo passed away on June 19, 2013, at the age of 69.
Chet Flippo's legacy in journalism will live on. Nancy E. Russell, a music artist manager from Nashville, TN, generously provided gift funds to establish the Chet Flippo Journalism Scholarship. If you wish to make a contribution.
---
Alumna Selected to Photograph for Venezuelan Magazine's Special Edition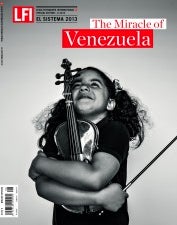 Photojournalism alumna, Meredith Kohut (BJ, BS '07) is one of three photographers selected to photograph for Leica magazine's special issue on the Venezuelan Children's Orchestra known as El Sistema.  El Sistema is a well known Latin American project, supported by the Venezuelan Ministry of Education, to keep kids in the poorest barrios in school and safe from drugs and gangs. El Sistema produces classical and folk orchestras that are celebrated around the world.
Meridith's photography is in the streets of Salzberg at the moment and in the special issue of Leica magazine, which is donating all proceeds to support the orchestra. 
You can see the LFI special edition HERE.