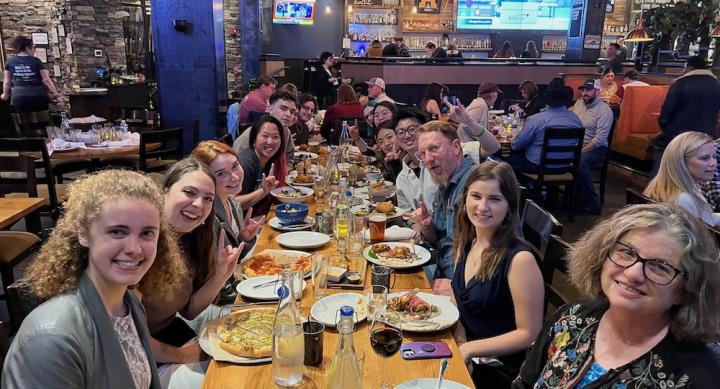 Students build connections and skills through NICAR conference

 
By Christian McDonald
As an instructor who teaches classes where programming and journalism intersect, I have arranged each year to send students to a data and technology conference sponsored by the National Institute of Computer Assisted Reporting conference, a mouthful we reference through the acronym NICAR. This year over 900 people from across the globe attended the conference in Nashville and UT represented with nine students, two professors and at least three recent alumni. The conference is a mixture of hands-on training classes, panel discussions and networking opportunities, where almost all presenters are journalists themselves, sharing their craft and secrets with others in support of the cause. 
I asked some of our students to share their experiences. Here are their stories:
Athena Hawkins
Attending NICAR was an invaluable step forward in my journalism education. I applied for the conference because I thoroughly enjoyed Reporting With Data, Christian McDonald's coding and reporting course for journalism students, and I wanted to learn more. I did not expect to find myself practicing data journalism, learning technical skills and testing innovative digital tools alongside experts and professionals in the field! The conference helped me contextualize my journalism coursework and interest in data reporting within the professional news industry. I met editors and journalists from numerous outlets and gained valuable career advice from them. Later, I found myself sitting in the sessions they taught! I learned how to file clearer information requests, how to make beautiful and informative visualizations, how to report more ethically on education, how to make complex datasets digestible, and so much more. The only thing I wish I had at NICAR was more time. There were so many sessions for every type of journalist, ranging from skills-based coding and programming classes to panels focused on reporting and coverage. Whether you're a Python expert or a Google Sheets novice, NICAR had a session that would leave you feeling better prepared for a career in any journalism or data-related industry!
Jade Emerson
Attending the NICAR conference gave me the opportunity to explore different avenues of a journalism career as well as learn real-life skills application. I plan on going into audio journalism, and admittingly I was a little hesitant that I would feel it over my head at a data journalism conference. But through the course of the weekend at NICAR, I learned that data is a thread that runs through all mediums of journalism. I attended several different sessions with a focus on diversity within newsrooms and news coverage. These sessions covered how data assumes a male population and how to recenter data reporting on DEI. One of my favorite sessions was a panel on how to tell data stories through audio. Using real life examples, the panelists shared their experiences on making data digestible for radio and how to tell audio stories more effectively. After the session, I also was able to network with different members of the panel. 
There's a lot of scary things about being a college senior about to graduate. But one of the best things about it is realizing how many people are willing and eager to help you. NICAR is full of those kinds of people. Over the course of the weekend, I was able to make several meaningful connections with different professionals in the field. When I left NICAR, I felt like I was leaving with a better understanding of what type of journalist I want to be — and with a stronger skillset to help me get there. 
Carolyn Parmer
As I sat in the back of a hotel conference room trying to follow the instructor's steps to gather crime data from APIs, the realization that this was my last NICAR session hit me. Considering my initial nerves and feeling of unpreparedness, my sadness about the conference's end surprised me.
During my first NICAR session, my imposter syndrome hit a high as people around me discussed their knowledge of JavaScript, a software I hadn't even installed on my computer. Flash forward 10 minutes to when I realize I'm sitting next to the newsroom developer at The Boston Globe, and my imposter syndrome skyrocketed. But as soon as the instructor began the class with a smile and encouraged us to ask our neighbors for help throughout, I eased back into excitement. Three and a half hours later, I possessed a basic understanding of JavaScript and hardly made it back to my hotel room before trying it out with different datasets. 
In addition to hands-on coding sessions, I attended fascinating panels about social media, AI, audio storytelling and other exciting topics. After the audio storytelling talk, I approached Natasha Senjanovic, one of my favorite podcast hosts. Her passion for using data journalism to highlight women's issues inspired me, and we talked at length about this topic. Her genuine interest in my thoughts made me realize that she, like every other NICAR attendee, wanted to help me reach my goals. I left that conversation feeling inspired to continue using my journalism skillset to tell stories about, and for, women. 
It's no surprise that I left NICAR with more coding experience. For me, the surprise lies in the fact that I so quickly acquired this knowledge, a feat I owe to the helpful attitude of the journalists around me during those three thrilling days in Nashville. 
Jill Ament
The 2023 NICAR conference in Nashville served as a great career development opportunity for me. I connected with news organizations that could serve me in various journalism pursuits like The Tiny News Collective, The Google News Initiative, and ICPSR. I learned more about how I can find and use data to bolster my own reporting projects. I attended several informative panels each day including a conversation with the director of the U.S. Census Bureau, a session on why data assumes a male population, using public data to uncover the hidden costs of the housing crisis, public health coverage in a post-Roe America, and reporting on a military base near you using court-martials records. NICAR was also a great networking opportunity. I met many journalists, academics and students who shared the same reporting and research interests as me. The NICAR atmosphere was very welcoming compared to other journalism conferences I have been to in the past. I appreciated people's willingness to share their industry advice and inquire about my experience and what I want to accomplish with data journalism. I plan to stay in touch with the professionals I met as I take a more freelance approach to getting my work published.
Krystal Won
Attending NICAR2023 has not only solidified my determination to pursue a career in the field of data journalism, but also broadened my perspective on the nuances of this rapidly-evolving discipline. Engaging with a diverse community of professional journalists, data scientists, professors, and fellow students, I was able to gain invaluable insights into the strategic approaches and innovative storytelling techniques that leverage the power of data. The experience provided me with a clear vision of the path I should embark on at my current stage, as well as the essential skills and knowledge that I must acquire to excel in this competitive arena.
Beyond technical expertise, NICAR2023 fostered a thought-provoking environment that encouraged me to reevaluate the intricate relationship between accelerating technology and human beings. As we continue to harness the potential of advanced tools and methodologies, it is crucial to remain cognizant of our ethical responsibilities and the potential impact our work can have on society. This conference has instilled in me a sense of purpose and responsibility that extends beyond mere data analysis and storytelling, shaping my vision as a data journalist who is committed to generating profound, ethical, and transformative narratives.
Paula Levihn-Coon
3/6/2023
NICAR gave me access to a professional network of journalists which I can access in the future if I need advice as I set out in the field.  Just knowing that NICAR exists is valuable. When I came to the convention, I didn't know what a "tipsheet" was but by the end of the conference I was perusing them to see how they could be of value to me in the future. 
Just by looking at peoples' badges I could glimpse possible places to work or send freelance pitches. That so many people worked for nonprofit advocacy groups was an eye-opener. That NICAR can be a resource for pitch-generation is valuable. The titles of the seminars was a list of topics that are top-of-mind for Americans right now.  In the seminars I attended, I learned what resources are available (organizations and databases) for journalists to access, from fire reporting tools to data on housing evictions generated by Eviction Lab. 
I took a day-long seminar on google sheets, giving me another dataset crunching tool that's easy to access anywhere. Pivot tables and filtering tools are just as powerful as some parts of R and a little less intimidating!  
I also found out there may be support in the form of knowledge and, even, money for future projects. The Data-Driven Reporting Project is an organization that gives support in the way of money and labor to smaller less-resourced groups or to individuals.