App Dreams Do Come True: First-Person Essay Describes 2016 Demo Day
 By Silvana Di Ravenna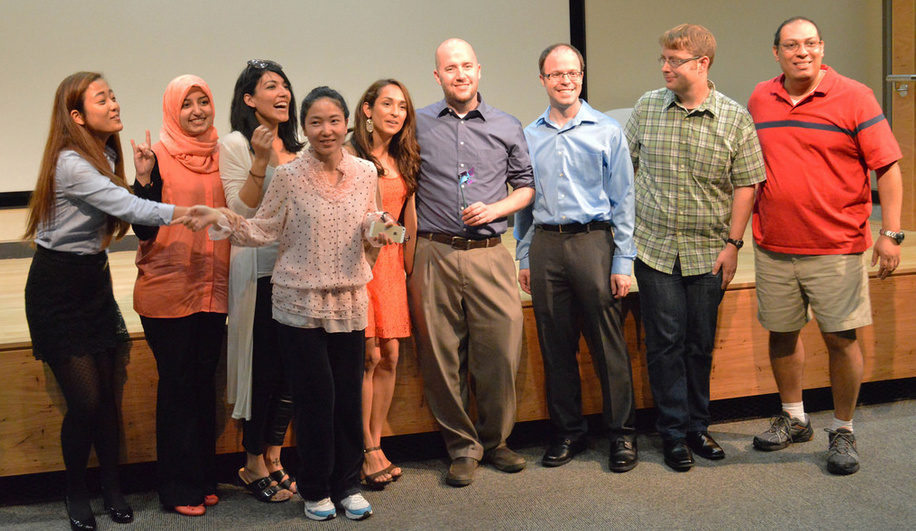 Members of the winning WeatherVain team with their instructors on Demo Day, from left: Jung Yoon, Tehreem Syed, Silvana Di Ravenna, TA Qian Wang, Cassandra Jaramillo, Professor Robert Quigley, Mark Coddington, Professor Jeff Linwood and Carlos Hernandez. Credit for photo: Cheri Linwood.
The UT Mobile Apps Design class is taught in the spring semesters by Robert Quigley and Jeff Linwood and is open to upper level computer science and journalism majors. Linwood teaches Intro to Mobile Programming for journalists in the fall semesters.
Below is a first-person essay on demo day written by Silvana Di Ravenna, one of the students in the Mobile Apps Design class. WeatherVain will appear in the Apple App Store soon.
---
April 26, the day our beloved app creations were finally presented to the public, will forever remain on the minds of all of us, the 26 students who randomly met on the first day of class, at the beginning of this year. Thirteen journalism majors, and 13 computer science students joined UT journalism professor Robert Quigley and iOS developer Jeff Linwood's mobile news apps development class, naively ignoring the rollercoaster of emotions that we would face throughout the painstaking process of creating an app from scratch.
But we were eager. We were bold. And we had the enthusiasm and bottomless sack of ludicrous concepts to put to the test. After uncountable trials and errors, and seemingly neverending after-class meetings, we came up with five distinctive and novel ideas that would become our new collective name for the rest of the semester. Sono, Newt, GamePlan, IntELECT, and WeatherVail became part of our identity. Our second skin. We truly poured our souls and hearts into these projects. We worked so hard every day (and sometimes all night) to make our ideas a reality.
Who would have thought that a journey that sometimes seemed unachievable and impossible, would come to full completion last weekend, when we were finally standing in front of the judges, ready to showcase our newly born creations. We ere nervous, undoubtedly. After all, the judges (among others, R.B. Brenner, the future director of our journalism school) seemed as intimidating as they looked in their photos posted on our website before the event.
About 200 members of the public came to the show. Even Bob Metcalfe, the co-inventor of the ethernet, attended. Talk about pressure and high expectations! But pride always trumps panic attacks (or so I say), so at 1 p.m. on that Saturday afternoon, we finally began our presentations. First came WeatherVain (our weather and fashion app) strutting down the improvised runway, full of flair and full of energy. Gameplan appeared next, injecting enthusiasm into the public with its ingenious tailgating party concept. sono, the sleek recording app that will possibly change the future of reporting, fancifully came third. After a short intermission, the remaining two apps made their deserved debut: Newt, a newspaper-on-an app concept, awed the judges with its beautiful design, and last but not least, IntELECT, a voting app that was created, almost miraculously, in the span of five weeks.
After the demonstrations were over, the unavoidable and always nerve-racking process of award giving ceremony took place. And although some of the teams didn't receive any of the five awards, deep inside we know that we are all winners. We are winners not because we created innovative concepts. Not because we didn't give up halfway through the process (though we were many times tempted), but  because we were able to create something strong and much more meaningful. And that's the power of teamwork.
Dear App Design Class, you will certainly be missed.
Silvana Di Ravenna, a journalism student, was on the team that built WeatherVain, which won "Best Overall App" and "Most Original Idea" at the class' demo day. The app will be in the Apple App Store soon.