Big Data Lab's First Assignment: Tweets and Trump
Associate Professor Dhiraj Murthy and a team of graduate research fellows across Moody College of Communication have launched a new lab to tackle large-scale data analysis projects.
Their first challenge? The computational media lab, as they're calling it, plans to compare 6 million combined tweets containing the word "Trump" that were generated during the 2016 presidential election and after Donald J. Trump's first 30 days in the White House.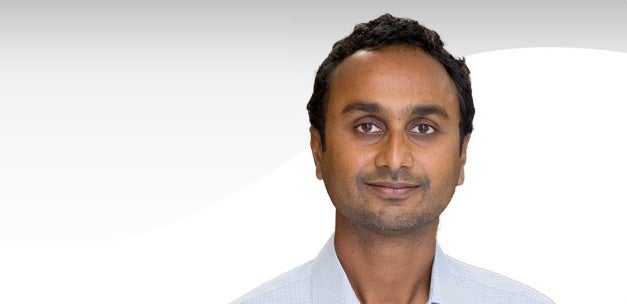 Associate Professor Dhiraj Murthy
Murthy, who is on the faculty of both the School of Journalism and the Department of Sociology, holds a Ph.D. in Sociology from the University of Cambridge. His past research has examined the political influence of online bots, social media and disasters, Muslim punks online and more. His book about Twitter, "Social Communication in the Twitter Age," was published in 2013. 
Lab organizers are working to establish a website, and project managers have been designated. Collaborators include the Texas Advanced Computing Center, based at the J.J. Pickle Research Campus in Austin, and UT research fellows from Radio-Television-Film, the School of Journalism, Communication Studies and Media Studies. 
"These types of large-scale data projects enable us to explore new forms of knowledge that are difficult to glean from non-computational approaches," Murthy said. "Social media data is the key data source that the lab's projects utilize.
"For this particular project, we will not only be studying the sentiment of the tweets and how they may have changed over time, but also will be using advanced methods of social network analysis, which allow us to plot out interactions between individuals tweeting with the word 'Trump' during both time periods."
Murthy said the lab, located in the Belo Center for New Media, also plans to deploy large-scale machine learning to dive more deeply into topics that emerge from the tweets and determine how the topics figure into broader social, political and economic contexts. He said one of the lab's key purposes is to combine research methods from across disciplines to glean enlightenment from Big Data.
"In the past, technology determined the length and duration of the message," Murthy wrote in his 2013 book. "In the Internet Age, our ability to communicate is seemingly limitless. But the computer has ushered in a new era of brevity. Twitter is a digital throwback to the analog succinctness of telegrams."
by:
GW Schulz
First year Master's Student