Campaign to Create the Liz and Les Carpenter Journalism Scholarship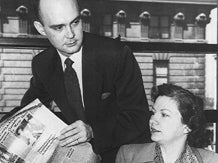 Family and friends of Liz and Les Carpenter have pledged their support for an endowed scholarship to honor two of the University of Texas at Austin's most distinguished journalism grads. This remarkable couple of equal partners created the Carpenter News Bureau in Washington, D.C., from which they covered Capitol Hill, numerous presidents, and federal agencies for more than a dozen major newspapers in the Southwest and beyond. After six years as chief of staff and press secretary to First Lady Lady Bird Johnson, Liz authored five books and numerous magazine articles while lecturing nationally. She was well known for her humor and passionate feminism. Les continued the Carpenter News Bureau and authored a nationally syndicated column until his death in 1973. The scholarship, for journalism students who demonstrate a financial need and an excellent academic record, and have desire to study investigative and/or political journalism, will create opportunities for students with the ambition and talent of Liz and Les for generations to come.
---
To support this scholarship fund, give here.
For more information or to discuss additional giving options, please contact John Brejot at 512/475-9160 or john.brejot@austin.utexas.edu.
by:
School of Journalism
The University of Texas