Doctoral Student Reflects on Innovation Fellowship
Kelsey Whipple, UT-Austin's first Dallas Morning News Graduate Fellow for Journalism Innovation, reflects on her experience expanding the boundaries of journalism. 
If you had asked me a year ago how I'd be spending the next 12 months, here's what I wouldn't have said: teaching a bot to talk. I probably would have gone with, "eating breakfast tacos." I'd also never have guessed that the following year would include traveling to San Francisco to learn from the best in the bot world, meeting with editors at The New York Times and pretending to be a robot in front of 110 journalism students. I'm no C3P0, and it's a good thing I didn't make any bets, because the first six months of the Journalism School's Dallas Morning News Endowment for Journalism Innovation have been busy, rewarding and surprising.
Our adventures began in August, when Innovation Director Robert Quigley set the tone for the endowment's first year: Our goal is to expand the boundaries of journalism, plan for its future and have fun while building student experience along the way.
Every year, we'll tackle large, semester-long projects and a few smaller ones, all focused on digital journalism. Our projects will develop from student ideas and passions, and we're forging professional and academic partnerships as we go. As a doctoral student, I'm particularly excited about the research implications tied to our professional projects. This kind of thing was impossible to find time (or money) to do during my previous life in newsrooms.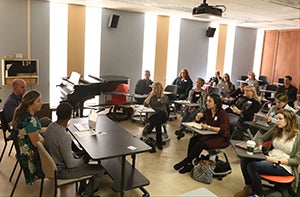 Robert Quigley, Kelsey Whipple and Micah Peeples discuss
news bots and their Dallas Morning News chatbot during
a panel at a Digital Storytelling workshop organized by the
Online News Association's Dallas chapter.
In the fall, one of those projects took us to Times Square. Beginning in August, senior journalism students Nicole Cobler and Alexiz Magro-Malo pitched and planned a way for The New York Times to reformat and refocus its "36 Hours" project for younger (and admittedly poorer) millennial audiences, and the students used Austin as a hub for a potential visit. Over the course of four months, our team put together the text, images and video content for a travel package about UT's campus for potential and future students. This plan led to a series of other ideas about how The Gray Lady might think about and attract millennial readers, all of which we strategized in detail. In December, UT's innovation team pitched those strategies to Times editors from across the newsroom in New York City.
This semester, we're working with another esteemed paper closer to home: The Dallas Morning News. Through the innovation endowment, we've formed an interdisciplinary team of four journalism students, two computer science majors, Quigley and me, and we're collaborating with the DMN staff to build the newspaper's first public bot. After an educational trip to the Bot Day conference in San Francisco in October, we selected Facebook Messenger as the bot's platform and dedicated the bot to the DMN's extensive archive of GuideLive.com events data. If you're looking for something to do in Dallas, the DMN has ideas — and soon, our bot will be the one to help you get started.
The chatbot, which will be live in beta form by May, has pushed our team to think about the ways we interact with technology and the needs it must satisfy. Along the way, we've incorporated a new API and considerable events data, built an efficient UX and UI from the ground up and brainstormed dozens of ways to ask someone what they want to do tonight. (You'd be surprised how many ways there are to ask "What's going on tonight?") Right now, we're in the process of naming the bot. We're kind of liking Lucy, who sounds like someone I'd trust to plan my weekend.
Robert Quigley, Nicole Cobler and Alexiz Magro-Malo in The New York Times 
building, by a wall dedicated to the publication's Pulitzers.
But Lucy isn't the endowment's only large project this spring. We're also partnering with the International Women's Media Foundation and the Knight Center For Journalism in the Americas to host an event dedicated to women in leadership roles in digital journalism on April 20, right before the International Symposium for Online Journalism. From 11 a.m. to 5 p.m., female journalists from Texas (including Dallas Morning News Managing Editor Robyn Tomlin and Texas Tribune Editor-in-Chief Emily Ramshaw) and Mexico (including Zeta Director Adela Navarro and Golden Pen of Freedom Award-winning journalist Anabel Hernández) will talk about transparency, authenticity, diversity and digital strategy during a time of political unrest and coverage challenges in both countries. We're thrilled to learn from these leaders in the field.
We've also collaborated on other events this year: In the fall, we partnered with the Engaging News Project for the university's Social Media Summit, and a week ago, we spoke to attendees of a conference organized by the Online News Association's Dallas chapter. In the meantime, our to-do list is already expanding into the summer and next year, when we'll be creating classes dedicated to innovation at UT and pursuing partnerships with respected institutions. If you work at one of them, if you'd like to collaborate with us or if you're just curious about what we're working on, follow us on Twitter at @innovationUT or email us at utinnovate@gmail.com.
by:
Kelsey Whipple
Dallas Morning News Fellow for Journalism Innovation