Journalism, Computer Science Collaborate in Mobile Apps Class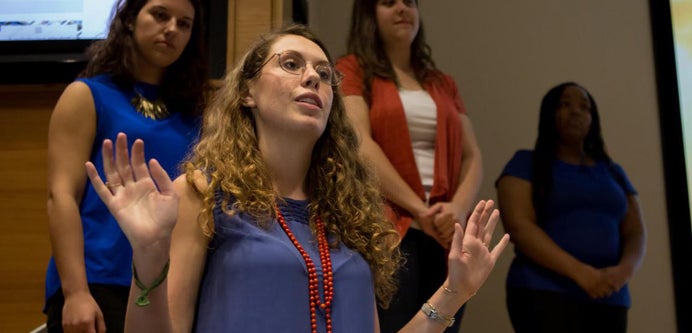 A semester's worth of inspiration, perspiration and teamwork led to an afternoon onstage at the Belo Center for New Media. Six teams, made up of journalism and computer science students, showed their products off to the public and a panel of judges on May 2 at the School of Journalism's third Mobile Apps Demo Day.
The teams had built Apple iOS apps, going through the entire creative process from brainstorming and wire framing to coding and design. The judges chose Echoed, which allows journalists to easily record and play back phone interviews, as the top overall app. Other apps presented on Demo Day included an alarm clock that wakes you up based on how long your commute will be, a humorous chore organizer for roommates, an app that shows videos of the journalism professors for students who are picking classes, an Instagram-for-pets app, and a buy-sell-trade app for UT students.
Robert Quigley, a senior lecturer in the School of Journalism, said he created the class in the spring of 2013 to give students a unique learning environment. Computer Science students earn upper-level credit in their department for this class, serving as a model for how CS and the School of Journalism can collaborate.
Jeff Linwood, a developer in Austin, co-teaches the class. He also teaches an introduction to mobile programming class for journalism majors. These courses are part of a larger effort by the school to rethink how technology and journalism should mesh. Other courses include a new web coding for journalists class, three data journalism classes, a social media class, a digital media entrepreneurship class, and a project experimenting with virtual reality storytelling.
In addition, the school organized and hosted a student hackathon on the first day of South by Southwest Interactive in March.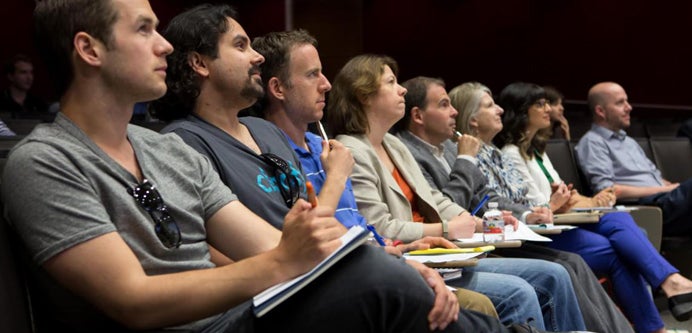 "It's important that students learn to not just use new tools effectively, but also learn to make the tools that will help the next generation of communicators tell stories," Quigley said. "The biggest learning opportunity, though, is to get a grasp on how to work on a closely knit team with people who are different from each other. Journalists and technologists work together closely in newsrooms now, and my goal is to help them see the possibilities once they speak the same language."
Judges from academia, the tech industry and professional media gave out awards to the students at Demo Day. Quigley said the greatest reward for the students is the learning opportunity.
"Learning how to think is our biggest charge," he said. "The tools and techniques will continue to change. We need to give them the tools to attack new problems and create new products."
by:
School of Journalism
The University of Texas