Looking Back at Forward-Thinking ISOJ
The International Symposium on Online Journalism is now old enough to vote.
The symposium, also known as ISOJ, brings together journalists and academics from across the world for a three-day conference about the evolution of online journalism. ISOJ  was created in 1999 by UT Austin journalism professor Rosental Alves, founder of the Knight Center for Journalism in the Americas. The 2017 edition of ISOJ was held in April at the Blanton Museum on The University of Texas at Austin campus. More than 400 people from nearly 40 countries attended. The conference boasted 68 speakers, including Huffington Post Executive Editor Lydia Polgreen. A new twist was added to this year's program: Facebook Live.
So how has ISOJ evolved since the early years of the conference? Here are tales from those who've been witnesses to the growth of digital journalism.
'A Different World'
Cindy Royal was working for Compaq Computer, a tech company in Houston, when she decided to change careers by pursuing a Ph.D. in journalism and mass communications at The University of Texas at Austin. She is now a professor in the School of Journalism and Mass Communication at Texas State University, teaching digital and data-driven media skills and concepts.
"I was really a newbie. I mean I knew nothing about this new world I was getting into," Royal said. "I worked for a tech company, but the world was about to change at that point. They were just getting used to using the Web, publishing online. There was no social media. Google had only been around for a year. It was a different world."
She credits attending the first ISOJ in 1999 as a major influence on the topics she became interested in studying, namely the effects of the Internet on communication and culture.
"It was very exciting for me to attend that first one because it was really, in my mind now, the beginning of a new career I had just entered into," Royal said. "I remember seeing people like Jeanine Warner and people from the Houston Chronicle, and the conversations then were very much around the disruption of digital to what we knew as traditional media at that time. There was a lot of, I would say, fear and uncertainty in the very first ISOJ."
Eighteen years later, journalism has had a chance to adapt to the digital-age world. According to Royal, this is shown in the new attitudes aimed at embracing the digital culture.
"Over the years, it has become something that Rosental has curated very carefully in getting just the right people at just the right time, the people who are the biggest innovators or the people who are doing the most interesting thing," Royal said. "So it evolved away from fear and negativity to positivity and optimism about the future and a focus on innovation."
An Intimate Size
Jim Brady is CEO of Spirited Media, which operates Billy Penn in Philadelphia and The Incline in Pittsburgh. When he attended his first ISOJ conference in 2005, the symposium was still located in the Lady Bird Johnson Room in the CMA building, with fewer than 100 in attendance.
"I remember going into it for the first time not knowing what I was walking into and thinking I was presenting to an auditorium," Brady said. "It was a very small room. I remember meeting a lot of people there. Rosental knows how to throw a party, so between all those things it became an event that I really looked forward to every year."
Every year the conference has consistently broken its attendance record. From a mere 25 to over 440 people from around the globe, Alves said he wants to resist the temptation to grow because he believes the conference has reached an ideal size.
Amy Schmitz Weiss, the research chair for ISOJ and an associate professor in the School of Journalism and Media Studies at San Diego State University, has attended ISOJ since she was a doctoral candidate at UT in 2003. She acknowledges the assets of having a smaller event and said, "It's a tight knit, intimate gathering of people."
"There's no intimidation for people who don't even know that professional who works at the New York Times, Dallas Morning News or BBC, for instance, to go up and ask them a question and be open to talking to them," she said. "I think it's a great chance for people to get to communicate, have conversations, and network that you don't see at a lot of other conferences."
On the other hand, South by Southwest annually brings in over 25,000 people into Austin about a month before ISOJ. By comparison, Brady said that one of the advantages of ISOJ is that "it's a very small group."
"There's like 300-400 on the agenda, so if there's someone you want to go get a drink with, it's much easier to do that," he said.  "You know the truth is, I used to come to Austin twice a year. I used to come to SXSW and for ISOJ. Now I generally only come for ISOJ because SXSW is too big, it's too hard to even find the people you want to talk to, and it's just not intimate at all."
In contrast, Royal said it benefits her Texas State students to filter the big ideas from SXSW and then apply them when they attend ISOJ. Royal brought 40 students and faculty to ISOJ this year.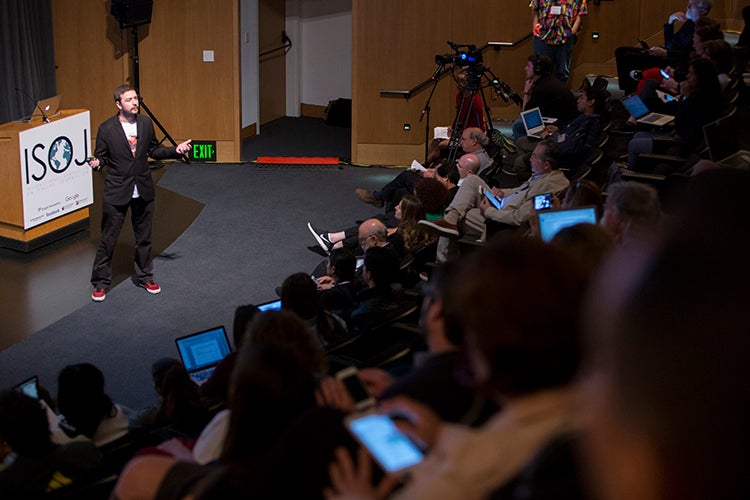 'A New Perspective'
In ISOJ's early years, only American journalists attended. Alves decided to open the conference for international journalists after realizing they would provide a new perspective for everyone attending.  
"I think this country is very inwards," he said of the United States.  "It's what I call 'the syndrome of the worlds.' It's serious because you know people think the world is the United States."
"There are tons of things super interesting happening all over the world," he added. "I thought it was a great opportunity because most of the conference is here, which is very local and domesticated. This time I think in the panel of polarized societies, we were shocked about their stories of political persecution."
Brady agreed and said the international interaction brings a "lessons to be learned and lessons to be taught" mentality to the conference.
"I often know a lot of things that you hear from the American panelists because I go to a lot of conferences, so a lot of these ideas are ones I've already heard," Brady said. "But you get the context of someone who lives in a different world than you do - and they're coming to these conferences talking about how one of their journalists got kidnapped - it really opens your eyes. I always make a point to go to the international [panels] because they remind you of what you don't have to deal with here."
He also noted there are different freedoms associated with each country in attendance and said these differences give people a broader view. Brady pointed out one panel during last month's conference which featured journalists from Venezuela, Serbia and Russia, "people trying to produce journalism in societies that aren't as open as the United States in terms of press laws, First Amendment and have totalitarian leaders," as he put it.
"Talking about doing journalism in those environments is very instructive for those in the [United] States," Brady added. "We can complain about our problems, but they're not the same as people who are dealing with dictators. It gives a perspective that I find really useful. It sort of re-centers you to not get too attracted to the specific problems of the American press."
Research Changes
For the past seven years, ISOJ has produced a hard-copy and online academic research journal. During the conference this year, Schmitz Weiss announced some changes to it.
Upcoming journals will have specific themes related to journalists' attitudes toward their work with technology. The Spring 2018 journal will be guest edited by Jane Singer, a renowned digital media scholar.
"We're on a track to move in this direction which is exciting," Schmitz Weiss said. "There's a lot of innovation, and things that we're constantly trying to do in terms of the academy and research because it's such an important part to this conference, which is bringing together the professionals and academy together."
Most academic journals take up to a year or two to get published, but ISOJ has made it possible within nine months. Royal says it provides a home for her research to be published.
"They catch onto innovation before anyone else does, and they've created this model where the research actually gets published quickly at the time of the conference and not having to wait many years until it sees the light of day," Royal said. "To be able to have an outlet for truly innovative mass communication research has been a value to me and to the profession in terms of really pushing the agenda on what the important topics are in academic research right now."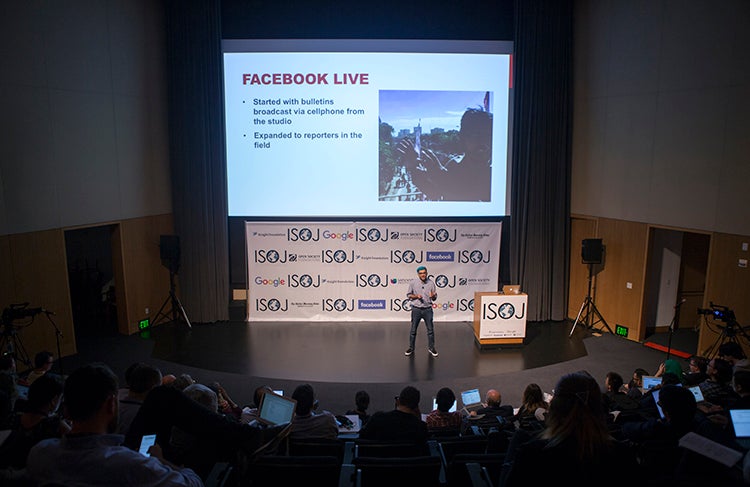 One Step Ahead
R.B. Brenner, the director of the School of Journalism at The University of Texas at Austin, opened the conference with a comical anecdote about Alves and the stress of planning this conference.
"He said that he passes by my office sometimes in December or early January, and I'm panicking, saying 'I'm not going to be able to put this together,'" Alves recalls. "Then he passes in late January, and I'm in Nirvana. He said, 'Rosental is in the clouds, saying this is going to be the best ISOJ ever!'"
ISOJ is known for its ability to predict the future technological innovations and new media for journalism. According to Alves, it's magic that allows him to take advantage of the trends.
"It's not easy because I don't do it with the normal anticipation," he said. "Other big conferences like that, many people start planning a year before. I can't do that because things move so fast in this area. I've been lucky of making this conference be a predictor of what is coming, especially with technology and tools."
Brady says one of the reasons he continues to go to the conference is because of its ability to remain ahead in the journalism industry.
"Good conferences have to stay on top of the industry, and ISOJ has always been able to do that," Brady said. "If ISOJ was still doing the same conference from 2005, nobody would go. I think it's a real testament to Rosental that it has managed to evolve because journalism has to do the same. One of the problems journalism has had for a long time is that it has not evolved as quickly as it needs to, and this conference has."
A Lasting Impact
According to ISOJ attendees, the conference is a way to network and make connections. For instance, Dawn Garcia of the Knight Fellowship at Stanford University had been following Royal on Twitter then introduced herself in person at ISOJ one year. Royal said this chance encounter led her to apply and get accepted to the Stanford program.
"I'm not sure it would have transpired in the way that it had without that key connection made by just meeting somebody, by sitting by her in the audience at one of the panels," Royal said. "So many of the things I have now brought back to Texas State, [ISOJ] was the origin - that was the beginning of thinking about things differently -coming back and instituting a brand new digital media innovation major or media innovation lab. The root of that, the origin of that, was at ISOJ."
Schmitz Weiss also uses the conference to inform her teaching methods and mindset.
"I think about how much the profession needs help from the academy, and the academy needs help from the profession," Schmitz Weiss said. "It's helped inspire my work, and I think it's helped me inspire other colleagues at my institution as well as others across the country in terms of the potential of what they can do with their teaching. I have made some really good friends in the process since 2003, too."
A Change of Subject
This year, Alves took a step-back approach to the conference. He said it was the first time in the history of ISOJ where journalism has returned back to its center.
"In all these years, the emphasis had been on the need for adaptation for journalism, then explaining the impact of the digital revolution, and then the new technological tools," Alves said. "This year was going back to the roots of journalism and the values of journalism, to accountability. I think what is happening is that the digital part is becoming more invisible and taken for granted, but now the emphasis is about how to do good journalism."
ISOJ hosted two panels with journalism at the center: the afore-mentioned international session with journalists who live in polarized societies around the world and an American one with journalists who cover the Trump administration. This panel, which examined journalists' accountability, could possibly drive the discussion at future ISOJ conferences.
"Another important topic was credibility and trust, what to do to recover the trust and reconnect with people," Alves said. "I think the electoral coverage was very dramatic for this country. And not only here, we had examples from across the world that were similar."
What's next?
A little less than a year away from the ISOJ 2018, Alves can presumably take a breath.
"It's too early to foresee," Alves said of the 2018 conference. "I think we will be more concerned about the credibility of the press, how to navigate this new echo-system of media and ways we can connect better with the audiences. There was debate about the coverage of the election, and people were saying stop blaming the public. It was also the fault of journalists.
"I think this focus more on journalists will continue from now on -- not that the emphasis in technology will disappear, but I think it will be much more in the next 18 years than in the past 18."
But it's more than topical relevance that keeps ISOJ popular with journalists and academics alike.
"It's funny," Schmitz Weiss said. "Once a person comes to this for the first time, they're hooked. They keep coming back every year because they see how special it is, and how much a community has formed over these 18 years that makes people want to come back."
by:
Molly A. Crouch
Freshman Journalism Major