UT Regents Name School of Journalism Alum to be Next University Chancellor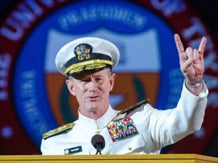 The UT System Board of Regents named Naval Adm. William McRaven the sole finalist to replace Francisco Cigarroa as System chancellor at a meeting on Tuesday.
McRaven, 58, is known for overseeing the operation resulting in the death of Osama bin Laden in 2011. A UT alumnus, McRaven will retire from his current position as U.S. special operations commander in August.
by:
School of Journalism
The University of Texas