Writing Center Offers "Conversations on the Craft" Series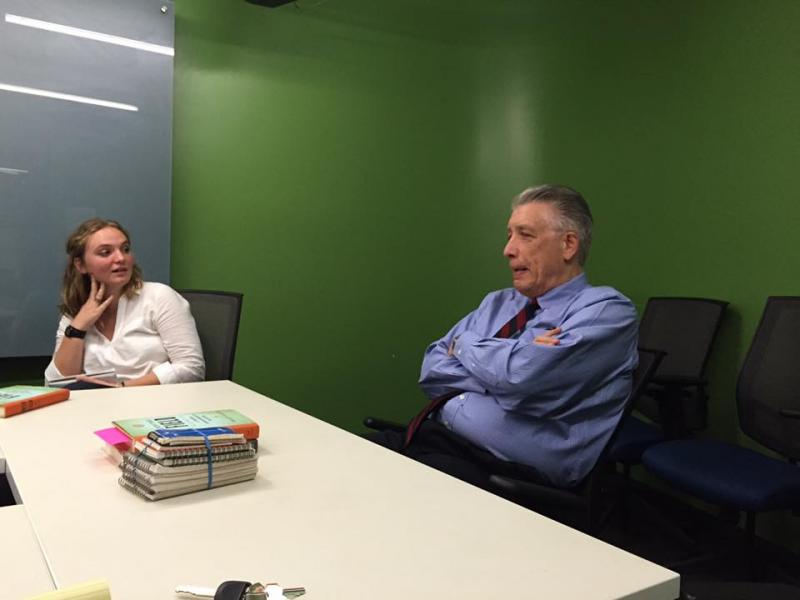 Tracy Dahlby spoke at the pilot session.
Photo courtesy of Diana Dawson.
A new monthly series called "Conversations on the Craft," features guest speakers talking about writing.
The next speaker on the craft is Jay Bernhardt, dean of the Moody College of Communication. Dean Bernhardt will be speaking Wednesday, March 2, on the "art of the business e-mail and the business letter." The event will be at 5 p.m. at the Belo Center for New Media in room 3.378.
The speaker series is sponsored by the Moody College Writing Support Program, better known as the journalism writing center, which was created two years ago to help students in the School of Journalism with their writing skills. The center, formed by director Diana Dawson and one student "coach," now caters to all majors in the Moody College with a total of 12 student coaches.
"Like a good story, a program has to be focused," Dawson said.
The writing center staff is always asking "what can we do to better serve the students," she added.
That's how Conversations on the Craft started.
"The craft is writing," Dawson said, explaining that it is an hour-long lecture followed by Q-and-A session.
A few student coaches pitched the idea to Dawson after expressing a desire to hear from certain professors whose classes they never had an opportunity to take.
Molly Stier, a student coach and organizer for the series, believes it is a great resource to students.
"We have a limited time at UT," she said, noting that the goal is to provide access to "all these incredible people with incredible experiences."
A trial session was held last November with journalism professor Tracy Dalhby. The outcome was a positive experience for both students and Dahlby.
"I love to talk about writing," Dahlby said. "If you can't learn first-hand, another great way of [learning] is to talk to people with experience."
Dawson said the program "fills a need for both the professors and the students."
"Everyone loved it," she said.
The first speaker for this semester was Cindy McCreery, an assistant professor in the School of Radio-Television-Film, who spoke on the "magic of screenwriting." The lecture was attended by roughly 30 students and required additional chairs to accommodate all guests.
McCreery's lecture is also available as a podcast, a trend the writing center is hoping to continue for the upcoming speakers. McCreery's lecture can be found here.
The last session will be April 6 with journalism senior lecturer Kevin Robbins, whose book "Harvey Penick: The Life and Wisdom of the Man Who Wrote the Book on Golf" releases the day before.
The speakers are arranged to offer a variety of perspectives on writing to students. From screenwriting, to business journalism and sports.
Dahlby said the "menu" of different speakers will help students find what career path speaks to them.
"To expose yourself to people doing all kinds of different things helps you find what you want to do."