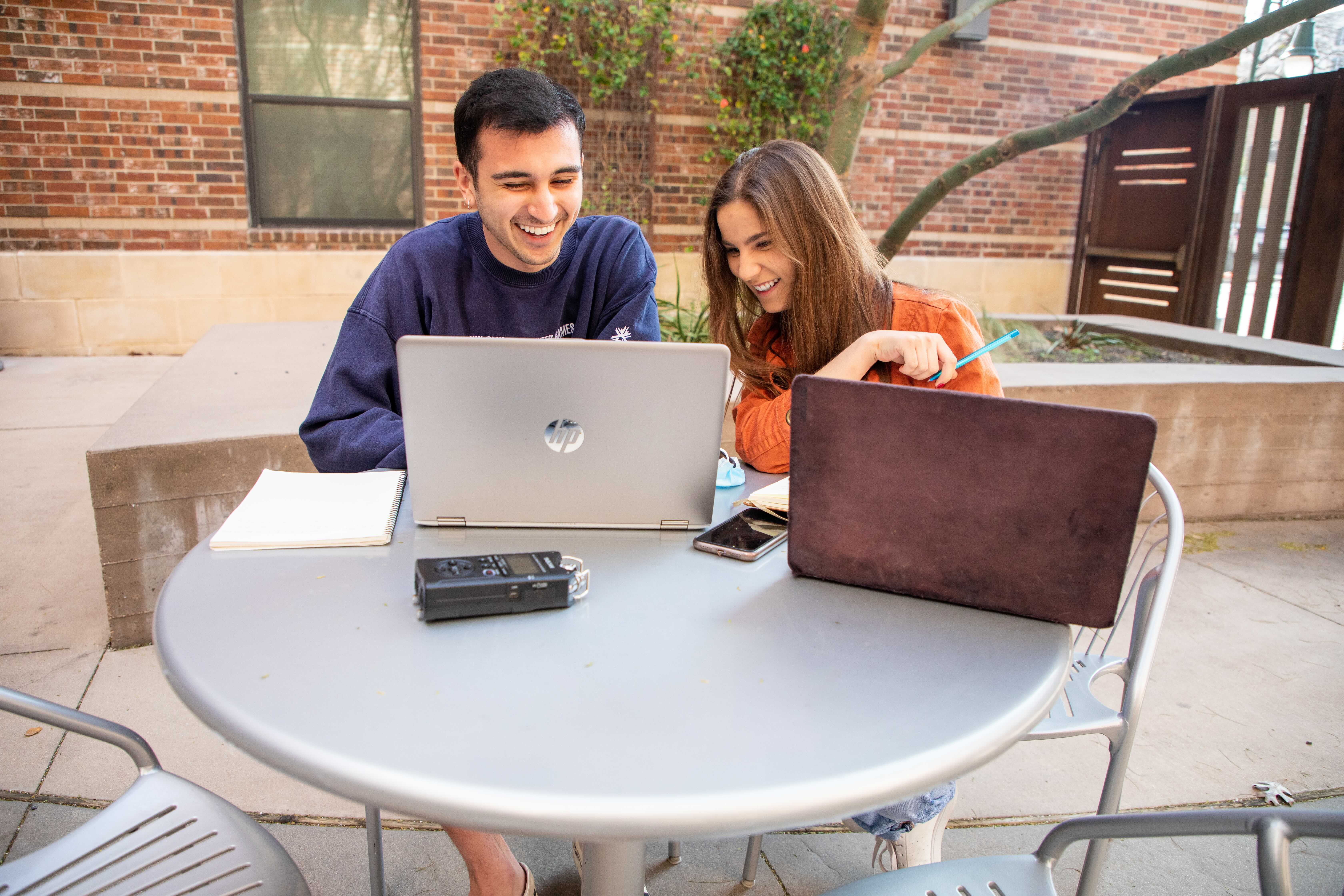 The primary mission of the School of Journalism and Media is to educate students to think critically and skeptically; gather a wide range of information accurately, honestly, and fairly; hold institutions, individuals, and themselves accountable for their promises and their deeds; and produce stories in various media platforms that communicate clearly, concisely and powerfully to the public.
Level 1 – Fundamentals (6 credits)
Students start the program with two required courses that introduce them to the critical values and sensibility at the heart of the journalistic method and the digital tools to communicate that method. 
Required Courses
J 301F Fundamental Issues in Journalism — Grounds you in the role of news media in a democratic society and focuses on the changing nature of the profession and key controversies journalists have faced and created.
---
J 302F Digital Storytelling Basics — Presents multiple technologies for digital delivery of text, photos, audio, and video news across journalism platforms. These courses may be completed in the first year.
---
J 304F The Journalistic Voice — Introduction to best practices on writing with a clear, concise, and organized style for a variety of platforms while learning and following ethical standards.
---
Introduction to best practices on writing with a clear, concise, and organized style for a variety of platforms while learning and following ethical standards.
Optional Course
COM 316 Introduction to Photographic Communication is recommended for those seeking to understand the role of photography in the modern world, and required for students who decide to pursue advanced photojournalism coursework.
Level 2 – Applications (6 credits)
All good journalism begins with reporting–the gathering of a wide range of information in a comprehensive, independent, even-handed, thorough, and ethical manner and the critical processing of that information.
J 310F Reporting: Words — Technology may change, but crucial reporting, writing, and editing skills remain vital. Learn the basics from faculty with professional journalism experience.
Prerequisite: Completion of J301F and J302F with a C- or higher
---
J 311F Reporting Images — Images have always told stories in powerful ways, and digital tools expand that storytelling. Learn about video from faculty with professional journalism experience. 
Prerequisite: Completion of J301F and J302F with a C- or higher
Both courses are required with a grade of B- or higher.
Level 3 – Specializations
Having acquired basic journalism tools in Levels one and two, you are ready to drill down into specialized, content-driven courses that give you the opportunity to do in-depth reporting and go deeper into various subjects and themes, as well as the chance to develop more specialized journalistic skills. The idea is to deepen your skills, knowledge, and critical thinking, while at the same time prepare you for a professional world.
All undergraduate Journalism and Media majors are required to complete J 350F Media Law. In addition to Media Law, students must complete a specific combination of skills coursework and concept coursework as outlined by their specific catalog.
J 350F Media Law (required course, requires upper-division standing) — Lessons in legal rights and restrictions for journalism, including Constitutional guarantees, libel, invasion of privacy, and contempt of court. (May be taken with Level two courses).
J330M True Crime Podcasts — Whether it's journalists reporting on murder mysteries or a couple of friends sitting around a microphone talking about sensational crimes, the true crime podcasting genre has drawn millions of fans around the world. This course will explore the ethical ramifications of the genre and the storytelling techniques that podcasters use. 
---
J 338J News for a Mobile Audience — A concept course examining the mobile world and how journalism and the news audience fit in it.
---
J 340F Covering the Global Economy — Examines the enduring financial, economic, and business issues journalists confront in covering the global economy.
---
J 341F Understanding African-Americans and the Media — Focuses on evaluating media representation and coverage of African-Americans. Readings, discussions, writing and research assignments, and group projects aim to increase understanding of the historical context of African-Americans in American society. 
---
J 341J Media and Minorities — Issues concerning the representation of minority or non-dominant groups within the United States. 
---
J 342G Reporting the World — A way of looking at, thinking about, and reporting the world, both abroad and at home. Establishes a framework for analyzing how the news media cover key events, issues, and processes that shape our lives in a global society.
---
J 343F Journalism and Religion — A critical examination of how religion traditionally has been covered in the United States and guidelines for developing individual thinking and reporting on religious issues.
---
J 343G Exploring Digital Media and Society — Explores the implications of the use of technology and digital media in influencing our community, social relationships and the profession of journalism.
---
J 346G Domestic Issues and Global Perspective — Analyzing social issues coverage from global and intercultural perspectives. Proper positioning of the U.S. globally in terms of recession, food, health care, education, energy consumption, and climate change.
---
J 347F Reporting Latin America — Focusing on Latin America, this course teaches foreign reporting skills and a better understanding of international news production processes.
---
J 347G Cultural Survey of Photography — Development of photojournalism and commercial, documentary, amateur, and art photography: historical processes, the evolution of stylistic trends and the careers of major photographers.
---
J 348D Gender and the News — A historical and contemporary exploration of gender and the news. Examination of the role of marginalized gender groups in producing news and the construction of gender within news texts.
---
J 348G The Business of Sports Media — This lecture course, cross-listed with Advertising and Public Relations, provides a basic understanding of sports media as a business.
---
J348N  Leadership in News Organizations — A course in lifelong management skills that goes beyond the initial months of a journalist's first job. This course focuses on the relationship between ethical work environments and ethical news content. Students learn to identify an ethical workplace, to negotiate power structures for opportunity and promotion, and to see themselves as ethical leaders, - - as a collaborative peer, a news manager, or an entrepreneur who creates their own organization. This course carries an ethics flag.
---
J 349E Elections, Voters and News — Explores U.S. election history, dimensions of and influencers in U.S. elections, news coverage of candidates and issues, and voters and their attitudes toward candidates and issues as well as their engagement with election news.
---
J 349L News Literacy in the Digital Age — Explores news, journalists, the practice and ethics of journalism, news platforms, history, and threats to the future of news, and the attitudes, demographics, and behavior of the news audience.
---
J 349N News Media and Politics — A theory course that examines the role of the news media in American politics. (formerly J 349T)
---
J 349T Diversity in News Organizations
---
J 351F Journalism, Society, and the Citizen Journalist — Contemporary social, professional, and cultural concerns about journalism's role in society and the evolution of the citizen journalist.
---
J 351P Social Media/Propaganda/Elections — This course explores the spread of "computational propaganda," including misinformation, disinformation and political trolling, with a focus on U.S. politics, media and reporting.
---
J351T Technology and Culture — This course examines the history, social and political contexts, and significance of communication technologies in our lives. We will review some significant historical technologies, and examine their origins and outcomes.  Some of the contemporary developments within technologies we encounter and use (such as social media, robots, algorithms within media systems) will be linked to these earlier innovations.  Coursework will include some short essays and opportunities to work on researching specific "cases" within groups.  A core theme of the course addresses ethical issues that arise with evolving communication technologies.
---
J 352F Ethics in Journalism — An in-depth examination of the ethical choices individual journalists face and the ethical implications of how news media operate in a larger social and political framework.
---
J 353F Historical Perspectives in Journalism — Evolution of journalism and mass media, including social, economic, and political factors that have contributed to changes in newsgathering and distribution.
---
J 354F Journalism and Press Freedom in Latin America — Focus on journalism in Latin America with an emphasis on the struggle for democracy and press freedom in the region. 
---
J 354S Contemporary Issues in Sports Journalism (formerly 359T) – Contemporary Issues in Sports Journalism deals with the range of problems and opportunities prevalent in coverage of American sports. Topics include class, equality, gender, labor, political expression, and race. The course also examines timeless themes in sports coverage such as community, ego, identity, money, opportunity, and tradition, as well as sports-specific journalistic ethics.
---
J 355F Living in the Information Age — Examines communication and information technologies with particular emphasis on the internet and its components. 
---
J 355P Business of News — Through on-site, interactive conversations with news professionals and entrepreneurs, students will learn about trends and innovations shaping the business of news -  from rapidly evolving content consumption patterns to emerging storytelling platforms like streaming, podcasting, and AR/VR. The course will provide students a deep understanding of the challenges and opportunities of the business of news, for-profit and non-profit alike, essential for those planning a career in media.
---
J 356R Race/Digital Media Cultures — This course examines a range of issues related to the digital media landscape, platforms and experiences, with a focus on the ways the digital media culture influenced by race.
---
J 358C Citizen Journalism — Examines the evolving role of citizen journalists -- with smartphones and social media as their tools of communicating what they perceive as news.
---
J 358N Online Incivility — The course critically assesses the impact of incivility on public discussions online and how that influences journalists and other media practitioners.
---
J 358P Pop Culture and the Press — Explores the relationship between the news media and American popular culture --including television, fashion and film – and how pop culture helps shape our attitudes and identities. 
---
J 359S Covering Live Performances — An examination of how music, theater and other live performances are covered by media.
---
J359S Covering the Middle East — An analysis of how American and global news media cover Middle Eastern countries and their citizens.
---
J 359S Digital Mainland China & Taiwan — Drawing on media studies, international relations, management, and sociology, this course surveys the social, political, and economic forces that shape and are shaped by the tech and media industries in Mainland China and Taiwan.
---
J 359S Elections and Misinformation
---
J 359S Introduction to Global Media
— Introduces the role of global media as a set of texts, technologies, and industries that shape our identities, our social worlds, and our political practices.
---
J359S Media Literacy/Civic engagement — An examination of the news media's role in fostering the democratic process.
---
J 359S Media Management
— How journalism operates as a business, with emphasis on ways news coverage affects media management and vice versa.
---
J 359S Social Media Growth/Uses/Impacts 
---
J 359S Tech Culture
J 321F Reporting on City and County Government — You'll learn and apply basic beat reporting skills as you navigate city and county governments and report, research, and write on issues and people at the local level. 
---
J 322F Navigating State Government — Training and instruction in specialized reporting, research, and writing skills as applicable to covering the state governments, especially the Texas Legislature (spring semester, odd-ending years). 
---
J 322J Reporting Social Justice — Explore how to cover social justice issues such as poverty, inequality, and disenfranchisement and the skills needed to research, report, and write on people in underrepresented communities. 
---
J 322P  Reporting Public Issues — This skills class focuses on a wide range of topics important to communities, including food safety, the environment, health care, and parks and sports facilities. Learn how to cover a beat and produce such content as newsletters, deadline stories, and in-depth features.
---
J 323F Education Reporting — You will learn how to cover school districts and higher education and produce stories that humanize the bureaucracy of public education and compellingly depict issues, structures, and policies.
---
J 324F Business and Financial Reporting — You will learn how to conceptualize, source and prepare news reports on global financial markets, commercial transactions, and company performance. The course is global; the U.S. is a subset of material covered. This is a hands-on course during which you produce multiple news packages for publication.
---
J 325F Covering Politics — This course emphasizes specialized research, reporting, and writing skills to cover issues, candidates, and campaigns. It also explores the profound impact that the digital revolution and social media are having on election campaign coverage.
---
J 326C Introduction to Coding for Journalists — Learn the tools and best practices of coding for digital newsrooms, creating online story forms and interactive news graphics. 
---
J 326F Reporting Sports — Sports media have a major impact on our culture, economy, schools, health, and aspirations. You will learn how to apply the basic skills and sensibility of journalism to the world of sports.
---
J 327D Reporting with Data — An investigation of the basics of computer-assisted reporting. Subjects include finding compelling data sets, cleaning and analyzing the contents, and presenting the results online through stories, charts, and maps.
---
J 328D Advanced Reporting with Data — Explore advanced data-assisted reporting techniques through use of databases, scripted analysis, and visualizations.
---
J328L Reporting Latino/a Communities — An examination of how Latino/a communities are represented in the media. Students will produce news stories about various aspects of the Latino/a experience at the national, state and local levels.
---
J 328S Reporting en Español — Produce multimedia news stories in Spanish for a local audience. 
---
J 330C Television Reporting — Basic television news gathering skills, including shooting and editing videotape, planning and executing visual storytelling, and writing and producing news packages. Students assist in the production of a television news program.
---
J 330G Creative Nonfiction for Magazine/Books — Reporting and writing skills for narrative nonfiction, including writing book proposals, magazine pitches, and sample chapters.
---
J 330J Advanced Photo Editing & Design (Maymester taught in Prague, Czech Republic) — Explores intensive photographic reportage and documentation using the camera as a tool of investigation and interaction. Emphasis on the creation of photo stories, photo essays, and feature stories, with editing and page layout.
---
J 330L Community Life: Documented (Maymester taught in London) — This class offers an opportunity to advanced, intermediate, and beginning students of videography to apprentice with an experienced documentary filmmaker. You will learn the steps essential to produce a high-quality, short documentary: identifying a subject, organizing the production, executing the scenes, writing the film, and editing the final product.
---
J 330P Editing Techniques — Edit professional writing, provide constructive feedback, and elevate content on digital platforms.
---
J 331 Web Publishing — Advanced skills in web design and in publishing multimedia content. Emphasis on collaborative work in creating an ongoing web information product.
---
J 331D Intermediate Photo Communication — Learn intermediate-level photograph skills and techniques. Evaluate recent trends, visual design, and use of images in the media. 
---
J 331G Audio Storytelling — Examination and practice of writing news for radio packages and podcasts.
---
J 331J Studio Photography — An investigation of the principles of studio lighting, theory and practice of contemporary color, location lighting, and production of portfolio-quality work, as applicable to advertising, photographic illustration, and photojournalism
---
J 331M Media Innovation and Entrepreneurship — Learn how the digital revolution has disrupted the media industry, creating opportunities for entrepreneurial, innovative initiatives. Study cases of successful media startups, and develop a startup project, using digital technologies and human-centered design. (Formerly J331F Entrepreneurial Journalism)
---
J 331N Digital Production/Analytics — Examine the digital publishing process, including planning, production, tracking, and marketing.
---
J 332D Web Production / Editing  — Advanced multimedia editing and production techniques. Emphasis on news judgment, language use, editing of textual elements, and use of digital software for print and web publication.
---
J 332G Explanatory Journalism: Storytelling in a Digital Age — Examination of long-form journalism, from print to new forms of digital storytelling.
---
J 332I The Interview Process — Explore the methodology of inquiry as a foundational but specialized form of reporting that requires advanced preparation, keen listening, and adaptability.
---
J 334G Advanced Visual Journalism: Video — Explores intensive video reportage and documentation using the camera as a tool of investigation and interaction. Emphasis on the creation of video news and feature stories.
---
J 334K Interviewing Historical Context (Voces Oral History Center) — Examine methods for recording interviews that become high-quality archival recordings for multiple platforms. Explore concepts and methods of power dynamics in an interview, asking evocative questions, preparation, and technical considerations.
---
J 334N Oral History in Multimedia Storytelling — Instruction in the use of oral history to generate long-term archival material and short-term multimedia stories. Covers concepts and methods of gathering oral history; centering on U.S. Latinos; and ways to build a multimedia representation of the interview. (formerly J 334F Oral History as Journalism)
---
J 334P Podcast Production — Analyze current podcasts. Create and produce two segments of an original podcast
---
J 334S Place/Audio Storytelling — Learning how to find the essence of a specific location and tell its story. Audio recording/editing, infographics, and photographs will be the tools used.
---
J 335 Narrative Journalism — Students in Narrative Reporting will learn and practice techniques to report non-fiction stories with the tools of fiction, including scene and dialogue. Students will analyze exemplary pieces of narrative, from written form to documentary film, and report and write their own non-fiction narrative.
---
J 335F Magazine Writing — Learn how to pitch, report, and write for magazines.
---
J 335J Mobile Programming for Journalism — Learn coding and other skills needed to design mobile news apps.
---
J335P TV Reporting and Producing — If you have ever dreamed of working in a television newsroom, being live on the air, or sitting at the anchor desk presenting the news, this is the course for you. This practical skills course will prepare you for your internship inside a newsroom and get you ready for your first job in a small market television station. The course is twofold – you will learn the art of storytelling by producing broadcast-style news stories through shooting, writing, and editing. The course will also teach you how to produce a 30-minute newscast. The second half of the semester is focused on taking the practical skills learned in the classroom and applying them to creating a weekly newscast that airs on ReportingTexas.com.
---
J 336D Graphic Design for Print and Online — Learn design for online and print storytelling. Subjects include design principles, visual perception, typography, manipulation of images and photographs, and page design for media platforms.
---
J 336F Social Media Journalism — The role of journalism in emerging digital social networks, examining current and traditional theories about social media as a form of journalism. Practice in the use of live-chatting, tagging, geotagging, wikis, Twitter, Flickr, and digital avatars as newsgathering techniques.
---
J 336J Lifestyle Journalism — Learn how to report and write about such subjects as travel, dining, and cultural criticism. 
---
J 336M Music Journalism (formerly Music Into Words) — Learn how to report and write about music and the music industry, especially in Austin, the self-proclaimed "Live Music Capital of the World."
---
J 337F Long-Form Feature Writing — Advanced instruction in reporting and writing long-form narratives, including lessons in analyzing story-telling tools, strategies, and techniques. The course also explores the similarities and differences in narrative strategies and techniques across different media platforms.
---
J 337G Opinion Writing
---
J 337J Writing for Online News Audiences — Learn tools and methods to write clean copy on a variety of topics on a short deadline. The course teaches students to take advantage of search engines, social media, and story structure to reach digital audiences. 
---
J 337P Writing/Producing Online Publication — This class will operate much like a working web desk at a major news organization. We'll have a class website where we'll publish our stories, simulating a breaking news experience.
---
J 338F Advanced Visual Design — Advanced exploration of principles and processes of visual design, including design principles, visual perception, typography, image-making, uses of color, printing techniques, and publication design.
---
J 339F Investigative Reporting — This skills course focuses on determining what an investigative story is, finding those stories and developing strategies and tactics in pursuing them.
---
J 339T Producing Documentary Sports Journalism (formerly Documentaries for Sports) — Applied skills in teams to produce one original documentary sports story. Emphasis placed on stories that transcend competition and explore larger social issues, such as race, sex, gender, class, opportunity, community, and identity.
---
J 339T Photo Storytelling and Social Justice (restricted to journalism majors) — This course explores how to report and photographically represent  the concerns of people in underrepresented communities in stories that are  technically proficient and ethically grounded
---
J 340J Documentary Tradition in Latin America — Contemporary social, professional, and intellectual concerns with the practice of journalism. Study of still photographic and video documentary work by Latin Americans about Latin America. Production of photographic essays on Latin American culture.
---
J 346F Reporting on the Environment — Instruction in and supervised fieldwork in environmental coverage. Issues to be covered include climate change, energy, air, and water quality, and sustainability. The course is occasionally offered as a study abroad in Australia.
---
J 349F Reporting Public Health and Science — Specialty reporting to help news consumers understand complex health and medicine issues. 
---
J 349T Reporting Consumer News — Reporting news from the perspective of American consumers.
Professional Practices (6 credits)
This stage offers you the opportunity to produce high-impact journalism across multiple platforms. All students are required to take two courses at this level, which will help prepare them for the challenges and opportunities of the professional world.  
J 360F Internship — Professional internships are a crucial experience for anyone seeking to enter and understand the fast-changing world of modern journalism. Internship to be arranged by student and approved by the instructor. Offered on the pass/fail basis only. May be taken only once. Students must first complete both Level 2 courses with a B- or higher.
---
J 362F Journalism Portfolio — A synthesis experience offering students the opportunity to polish their skills across journalistic platforms. As part of the course requirements, you will submit a professional online portfolio. To take this course, you must have completed six hours of upper-division coursework in journalism with a grade of at least B. 
---
J 363D Digital Innovations Capstone — The development of cutting-edge media products for The Dallas Morning News and other outlets. Ender the guidance of a professor, graduate students, and professional mentors, students conceive, pitch, plan, design, and create projects inspired by their own passions or by the needs of news media organizations.
---
J 363K News Documentaries — Use applied skills as individual filmmakers to produce one original news documentary under ten minutes. Emphasis placed on films covering current affairs, contemporary life and historical subjects, films that might be found on The New York Times or The New Yorker.
---
J 363M Capstone in Apps Development — Plan and build a mobile application, whether for Android, iOS, or web-based, and use journalistic multimedia skills to promote and explain the products.
---
J 363N Newsroom Capstone — Newsroom Capstone provides an opportunity for students to learn and put into practice the varied techniques required of today's journalism professionals. An outgrowth and enhancement of the school's former Reporting Texas and Advanced TV Reporting and Producing courses, this new capstone experience will guide students in producing news in a variety of formats including in-depth print stories and a weekly television newscast, Reporting Texas TV.  Participants will practice innovative techniques for promoting stories through social media channels. The newsroom will publish its collaborative work on the school's Reporting Texas website, as it helps students hone skills in print, visual and other forms of multimedia storytelling.
---
J 363Q Capstone in Podcasting (Restricted to journalism majors) — Plan, research, report, record, and produce professional-quality podcasts. Analyze podcasting audiences, build revenue streams, and market podcasts to a regional or global audience.
Prerequisite: Journalism 310F and 311F with a grade of at least B- in each; and six hours of upper-division coursework in journalism.
---
J 363V Visual Capstone (Restricted to journalism majors) — This course teaches proficiency in visual storytelling for online publication and emphasizes professional skills and habits.
.