Sebastian Herrera says great journalism goes beyond checking a box | Alumni Q&A - Where Are They Now?
"Do everything you can to explore all angles, talk to as many people as possible and do diligent research."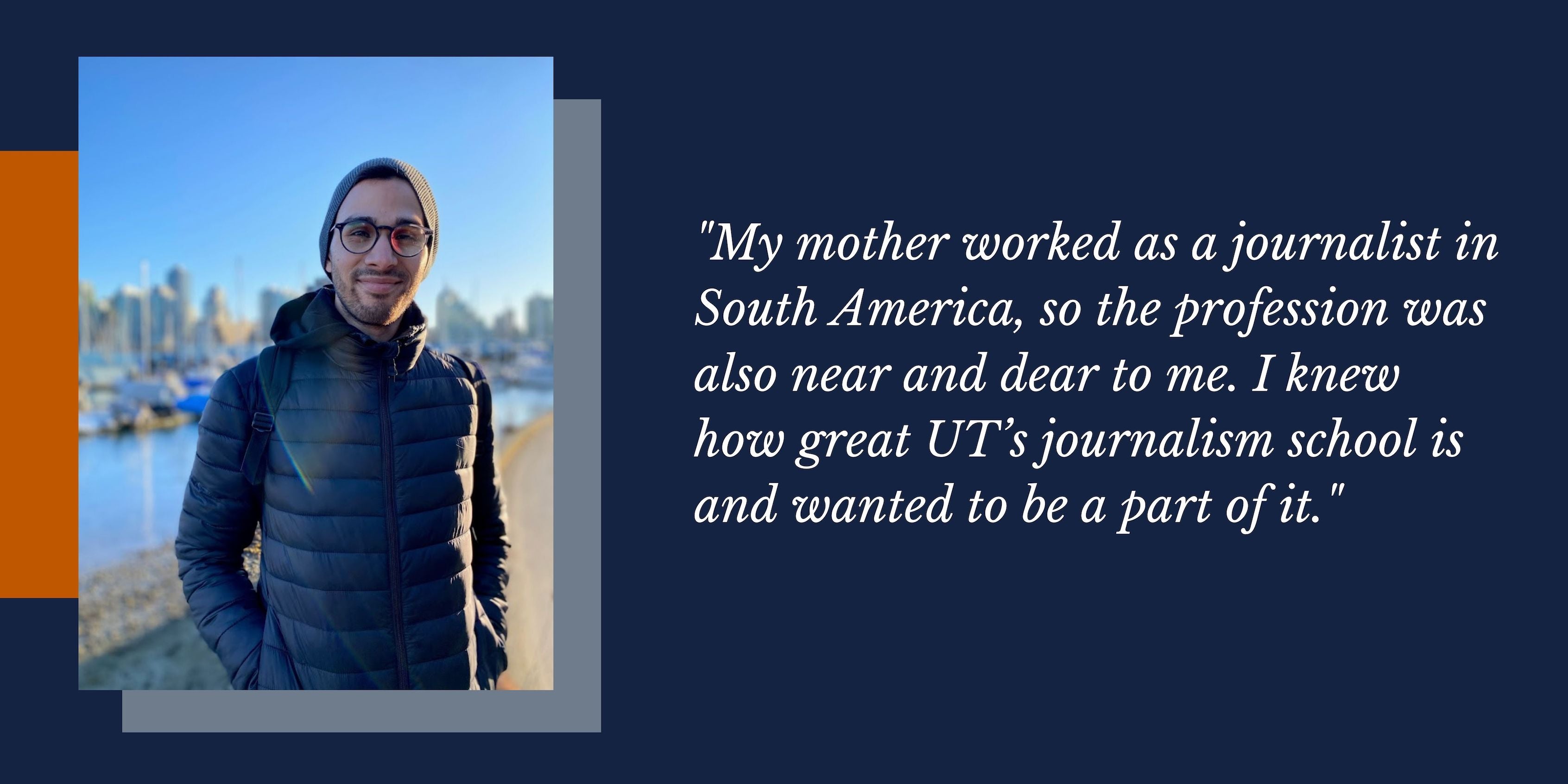 Sebastian Herrera's mother worked as a journalist in South America. He wanted to become a professional writer and saw journalism as the most viable path. 
"The profession was near and dear to me," Herrera said. "I knew how great UT's journalism school is and wanted to be a part of it."
Herrera is a technology reporter at The Wall Street Journal where he covers Amazon and other large technology companies. He graduated from the University of Texas at Austin with a Bachelor of Journalism in 2015 and before starting at The Wall Street Journal, he worked at the Austin American-Statesman as a business reporter and at the Houston Chronicle as a suburban bureau reporter. From writing about the Austin-based Whole Foods Market to assisting in special coverage during Hurricane Harvey in 2017, Herrera has a huge passion for his work. 
"My first journalism class, which largely discussed the various issues journalists cover, let me know I was going down the right path," he said. 
Outside of his work, Herrera enjoys reading, watching sports, hiking and trying out different restaurants and coffee shops with his wife. 
Sebastian Herrera Q&A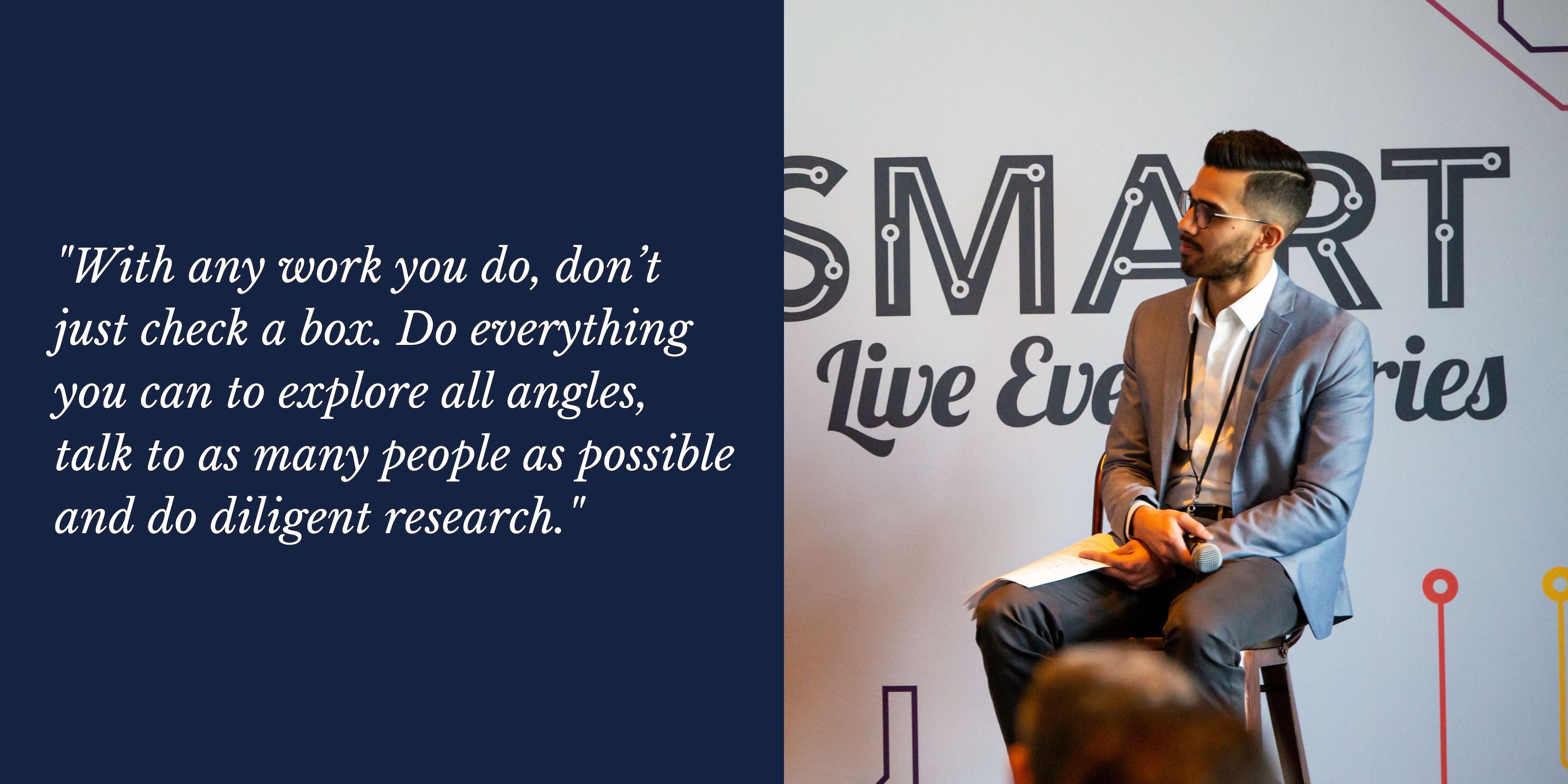 What did you learn at the University of Texas at Austin Journalism School that helped you get to where you are today? I learned the fundamentals and ethics of journalism. The J-school has tremendous resources, especially professors who have been in the industry and know people in professional newsrooms. I tell people all the time that I got my first job because I had a coffee with one of my professors at the time, who connected me to someone he knew at the Houston Chronicle.
Can you describe a typical day in your professional life? The first thing I typically do in the morning is read the news, check my email and set out goals for what I want to accomplish that day. I usually then have a call with my editor to discuss how some of my reporting efforts for a story are progressing. Then my day usually consists of calling or reaching out to sources, research and writing. I think a lot about what to prioritize and use that as the guide to my workflow. On occasions, I meet with people in person or attend events. I also make an effort each day to take a walk or engage in some other kind of relaxing activity, which I think can also be beneficial for brainstorming and thinking through work-related matters. 
What is the greatest challenge you have encountered in the field and what has it taught you? Covering grief and tragedy, which I especially did while at the Houston Chronicle, can be tough. Seeing people suffer or writing about a catastrophe or hard subject isn't easy. It taught me to always try to take a step back and think about what people are going through and how to best present their stories when doing my job.
What advice would you give to current journalism students? With any work you do, don't just check a box. Do everything you can to explore all angles, talk to as many people as possible and do diligent research. Question your own reporting before filing that draft. Above all, try to be as professional as you can with everyone you meet because you are slowly building a reputation for what kind of journalist you are. And try your hardest to set limits on the amount of work you do (always take your vacation time!)
Bucket list item: Would love to go to an Eagles game in Philly