Two Fellows Join Future Press AI Journalism Project Team
The Future Press AI Journalism Project has been working since February 2023 to understand the role of AI chatbots in journalism and newsrooms. The team, previously comprised of Professor Robert Quigley, Gracie Warhurst and Sophia Kurz, now welcomes two new members to their research: Michael Zhang and Angelica Ruzanova.
Professor Quigley expressed his excitement regarding the expansion to their team, "We have learned so much about the power and limitations of artificial intelligence as it relates to journalism. There's still much to test out, from newsroom workflow to content creation, and I believe expanding our team to four students will give us the resources we need."
Meet the 2 newest AI fellows and read about their roles in the project thus far.
Michael Zhang
Sociology Junior
Hometown: Katy, TX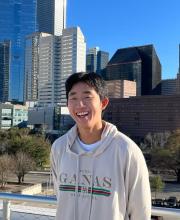 Hello! My name is Michael Zhang, a junior sociology major from Katy Texas. Usually when I'm not working on MIG Projects, I like to use my free time and rock climb outside in the Austin area.
So far for the AI Project, I've mainly been directly programming AI bots to help newsrooms speed up their more tedious journalistic tasks, whether it be transcribing and summarizing large amounts of documents, or as an online chatbot. I'm excited to see what MIG can come up with!
Angelica Ruzanova
Journalism Junior and Philosophy of Law minor
Hometown:

Tashkent, Uzbekistan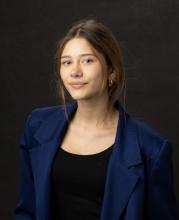 Hello. My name is Angelica and I'm a third-year Journalism student pursuing a minor in the Philosophy of Law. My hometown is landlocked in a country that many people confuse with other neighboring -stans, and that is Tashkent, Uzbekistan. I also used to live in the United Arab Emirates and Russia. I joined the AI team this semester after becoming greatly intrigued by its capabilities in my industry. It feels like AI is integrated into every platform I turn to, and I wanted to join the group on campus that researches and experiments its place within newsrooms. So far, my projects have been nothing short of exciting. The team and I prompted numerous chatbots to write us auto-generated articles, skim the Internet for missing context, and even attempt to write a journalistic newsletter. Next, we want to see whether AI can help with fact-checking, detecting bias in media, and summarizing large files into digestible information. There really is no limit to what we find and do!