5 Classes to Look Out For During Registration
From creating podcasts to reporting on the environment and the Middle East, check out a few of the Journalism School's exciting classes!
Digital Innovations Capstone - Christian McDonald
The Digital Innovation Capstone class is where seniors can bring together all the skills they have learned in journalism and throughout the university. Teams of students choose a topic of interest, research needs in that field and build a digital media project to fill that need. It ranges from a website about a current news topic to partnering with another news organization to research and prototype new storytelling methods.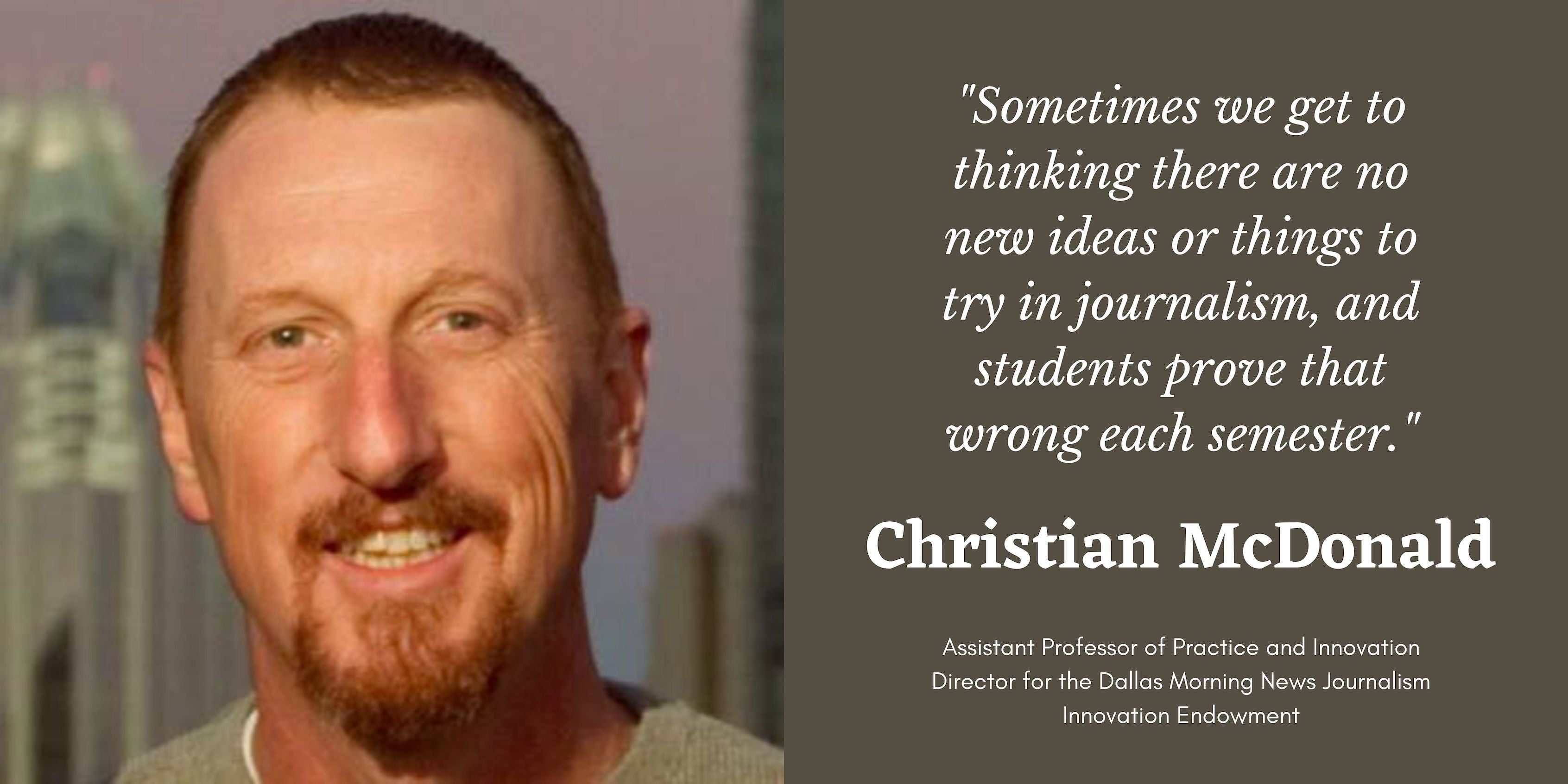 Get to Know Your Professor
I'm Professor Christian McDonald (he/him). I'm an Assistant Professor of Practice and Innovation Director for the Dallas Morning News Journalism Innovation Endowment. This is my fourth year teaching full-time at UT, after five years as an adjunct. I came here after 28 years at newspapers in Texas, Arizona and Georgia. My most recent job was as data and online projects editor at the Austin American-Statesman.
Fun fact: I don't play video games ... I'd rather spend that kind of free time figuring out some programming challenge than how to save a princess.
What is your approach to teaching?
For this class, I want to provide a structure for students to find success in trying and building new things. I want to foster both strengths from their education here, but also allow new learning and exploration of fields or technologies they have not yet been able to try. There aren't really lectures and the assignments are all geared toward steps toward a successful project.
Favorite part of this class?
I love the ingenuity and creative thinking of students in the class. Sometimes we get to thinking there are no new ideas or things to try in journalism, and students prove that wrong each semester.
Podcasting Capstone - Robert Quigley
In the Capstone in Podcasting class, students work on teams to produce high-quality podcasts using the tools they have learned at the Moody College. We start the semester by telling students about the podcasts we have going on at The Drag. Students can work on those if they want, helping produce our next big hit. However, students can also pitch a new podcast either for themselves or for The Drag. I also share my expertise on podcasting and have some readings (that I truly think are fun). The students learn about every part of the process of producing podcasts while also practicing it by working on them. There is no final or midterm exams - this course is about your creative work!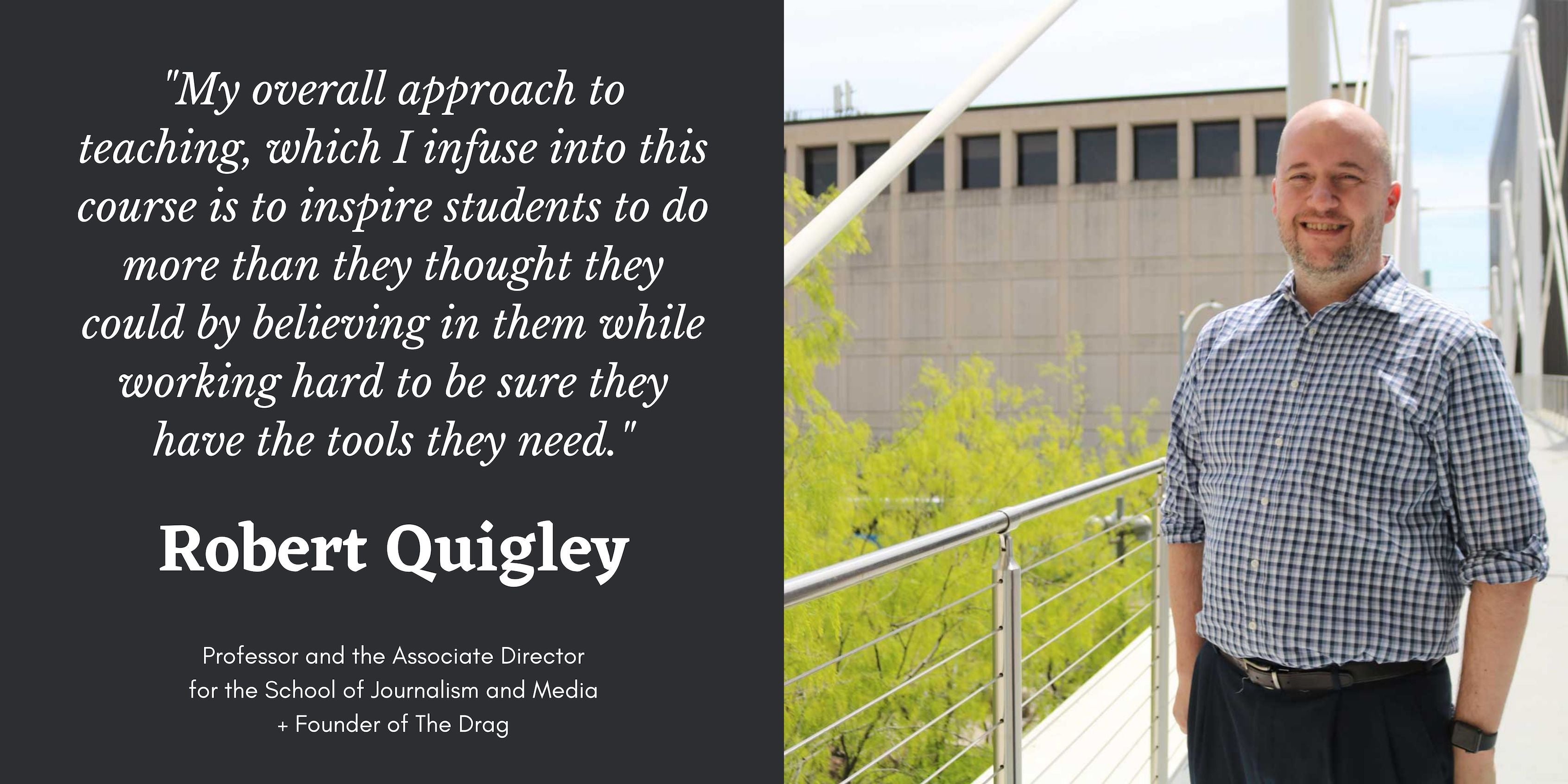 Get to Know Your Professor
I'm Robert Quigley (he/him), and everyone just calls me "Quigley," which is fine with me. It's just one of those last names. I'm a professor and the Associate Director for the School of Journalism and Media. I'm also the founder of The Drag, an audio production house that is making podcasts. Our first major podcast, "The Orange Tree," hit the top 20 in all genres on Apple and is nearing 5 million plays since its July 2020 release. I teach Digital Storytelling Basics, our major's required first-year course, and I also am the faculty supervisor for our internships.
Fun fact: I love music but have zero ability to remember song lyrics. I once did a stand-up comedy set, but I was a nervous wreck. I think I'm a good cook, but cooking stresses me out. I don't eat seafood. Yeah, even sushi.
What is your approach to teaching?
As a teacher who is trying to prepare students for the professional world, there are several things I love about the act of creating podcasts. Students pull from everything they have learned as a Journalism major, from interviewing to ethics to writing to technical skills. My approach to teaching this course is to give the students the freedom to carve out their own path to get from A to Z. By that I mean they pitch the podcast and tell me what they want to accomplish by the end of the course, but it's up to them on how they get there. I coach and guide them throughout the process (with the help of others, including The Drag's Associate Director Katey Outka and fellow professor Christian McDonald). My overall approach to teaching, which I infuse into this course is to inspire students to do more than they thought they could by believing in them while working hard to be sure they have the tools they need.
Favorite part of this class?
I love seeing the progress students make in the few months that make up a semester. It's always amazing to me how creative, smart and driven our students are, and it's unbelievably fun and rewarding to be part of their journeys.
Covering the Conflicts and Cultures of the Middle East in an Era of Media Upheaval - Andrew Butters
This course will introduce students to the tropes and tactics by which the Middle East is covered and encourage students to think about how to report on and write about the region in their own way. Class time and reading assignments will be divided between introducing students to the region's main flash-points  --- starting with the Israeli-Palestinian conflict; to September 11th and the invasion of Iraq; the Arab Spring and the ongoing struggle for regional self-determination; the rivalry between regional heavyweights Saudi Arabia and Iran; and finally the current confrontation between the U.S. and Iran --  and preparing students for the physical reality of being in the Middle East and the basics of working as a foreign correspondent.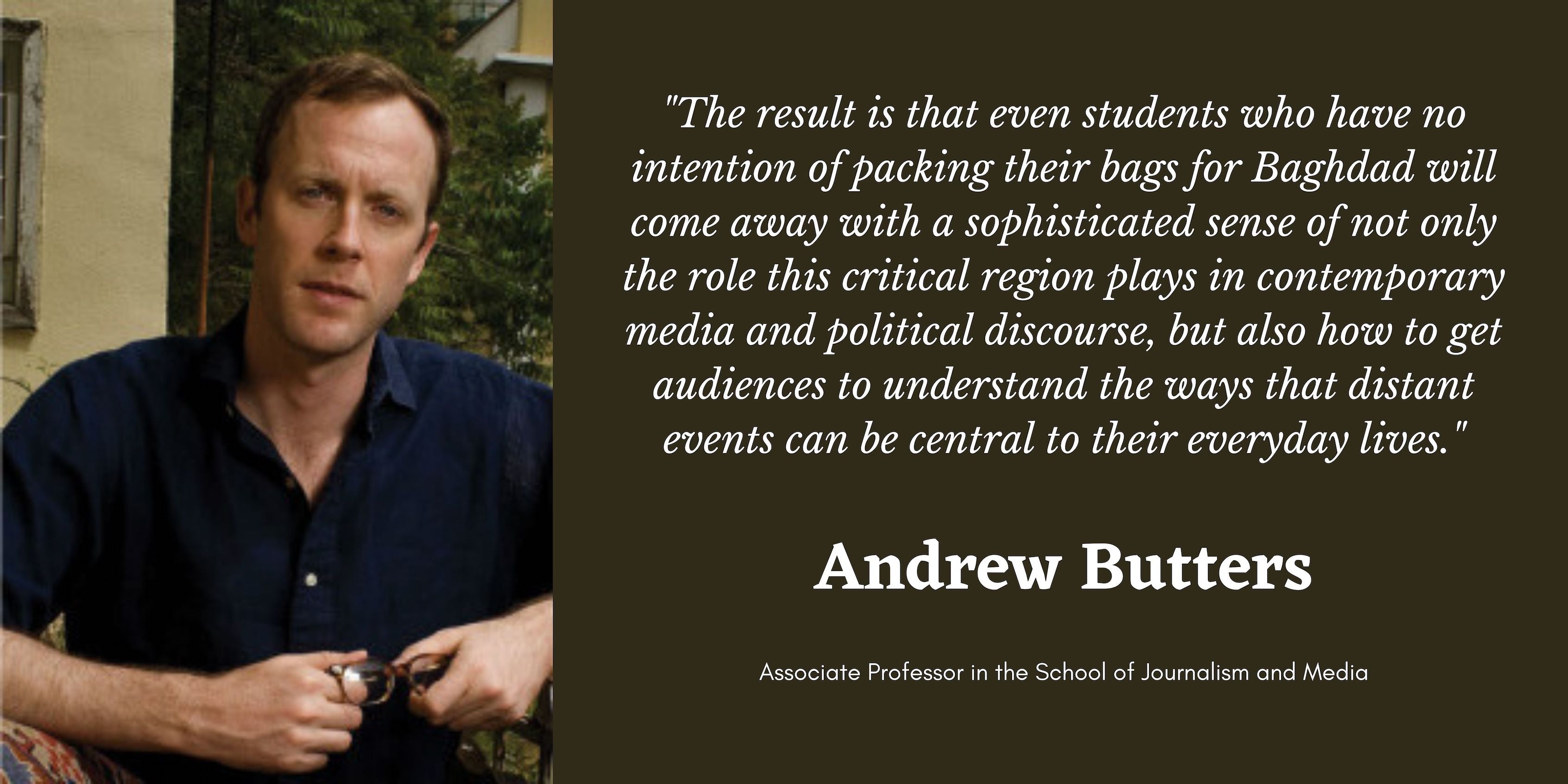 What questions will this class pose?
The Middle East is the quintessential foreign correspondent's beat. Flush with oil wealth, the birthplace of the world's great monotheistic religions, and the flashpoint of some of the most important conflicts of the modern age, the region generates a steady flow of front-page news-making events. But how the region and its people are portrayed in the media is itself a matter of great conflict: is it a hot-bed of virulent sectarianism, terrorism, and state failure? Or a resilient land of humane culture in the face of foreign interference and military intervention? Media critics even debate whether or not the Middle East gets too much coverage. The end result of these contested media narratives is an audience that is alienated and confused by events in the Middle East; and an American public that still doesn't know the basic history of our epic involvement in the region.
The result is that even students who have no intention of packing their bags for Baghdad will come away with a sophisticated sense of not only the role this critical region plays in contemporary media and political discourse, but also how to get audiences to understand the ways that distant events can be central to their everyday lives.
Reporting on the Environment -

John Schwartz
With a focus on climate change as an important gateway for writing on scientific and environmental topics, my students will learn the basics of climate science and reporting on science topics, as well as related topics that build on the science, including environmental racism and inequality, environmental justice and climate justice, health, food, civil strife and other issues that global warming affects powerfully.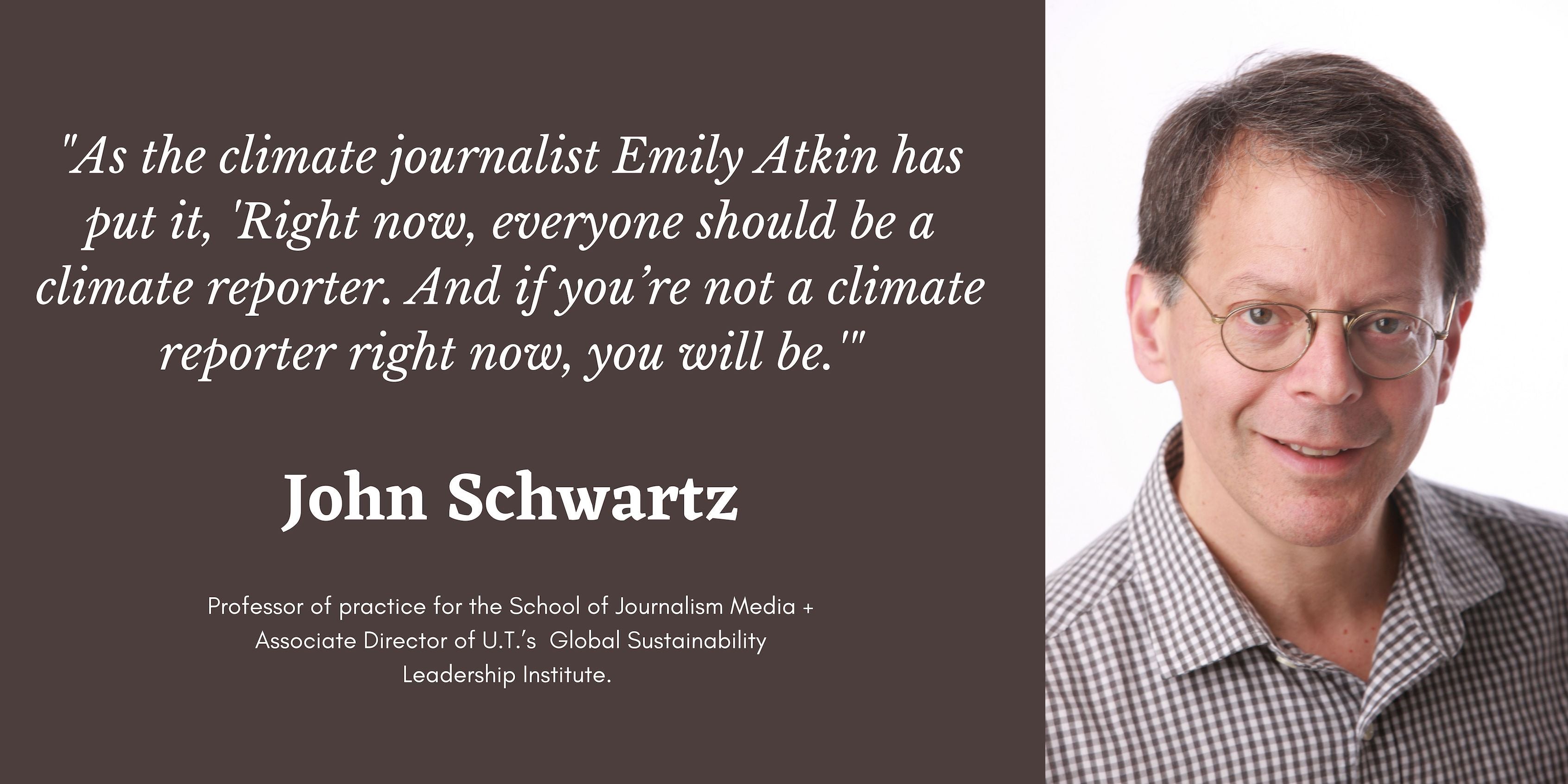 As the climate journalist Emily Atkin has put it, "right now, everyone should be a climate reporter. And if you're not a climate reporter right now, you will be."
Podcast Production - Katey Outka
The class will focus on all phases of podcast production, from interviewing and outlining to script writing and editing. Students will analyze current podcasts and create and produce two segments of an original podcast.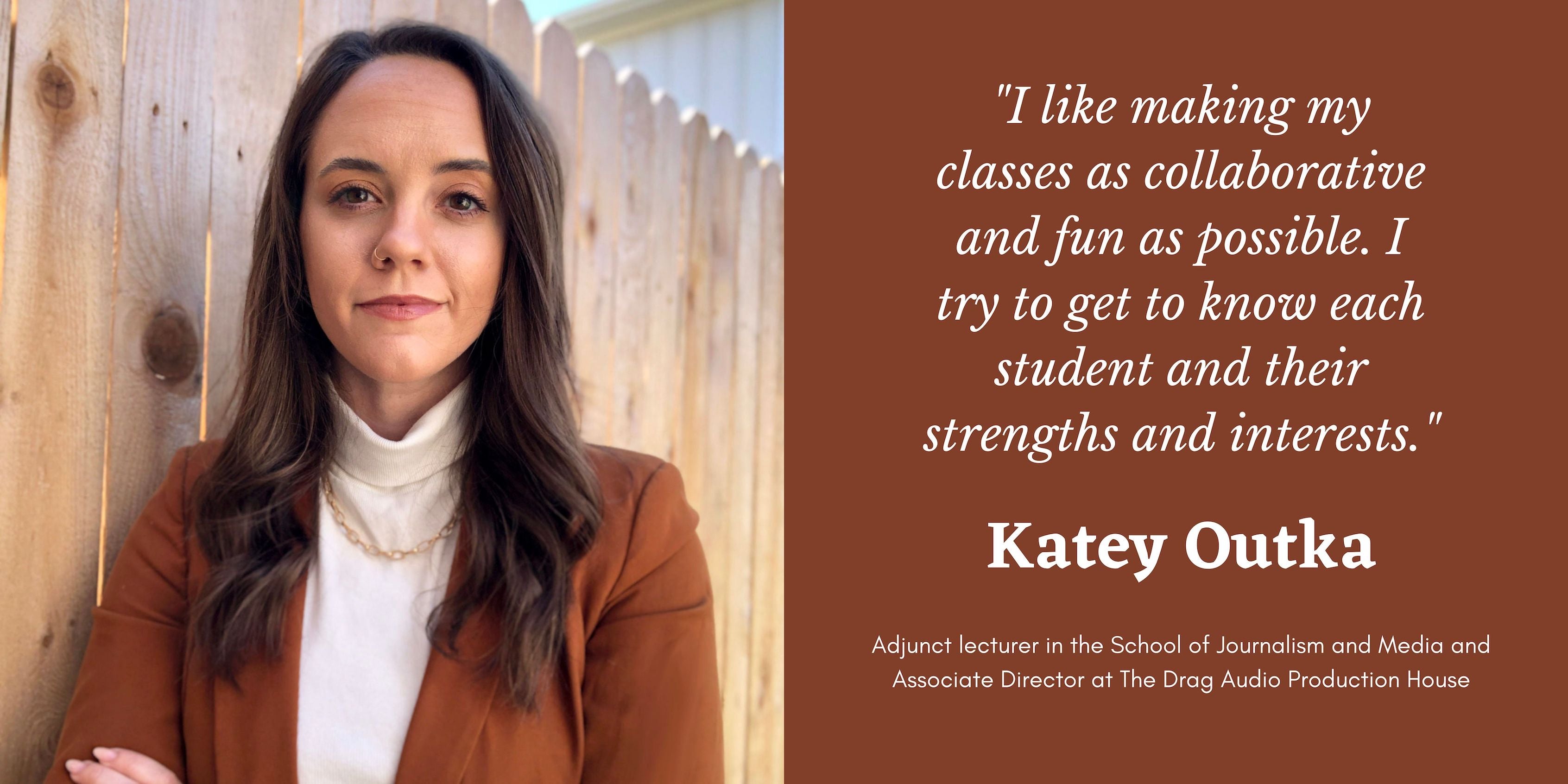 Get to Know Your Professor
Katey Psencik Outka (she/her) is an adjunct lecturer in the School of Journalism and Media and Associate Director at The Drag Audio Production House. Katey graduated from UT Austin with a degree in journalism in 2013. She worked at KVUE-TV, KLRU - Austin PBS, The Daily Dot, the Austin American-Statesman, GateHouse Media and the Texas Book Festival before joining The Drag. She's a diehard Longhorn and spends her free time reading and playing with her shih tzu, Oso. 
Fun fact: I'm a massive Swiftie. I even flew all the way to Chicago this summer just to go to an all Taylor Swift dance party. It wasn't even a concert, just a DJed party at a bar! 
What is your approach to teaching?
I like making my classes as collaborative and fun as possible. I try to get to know each student and their strengths and interests and I want them to get to know me as well. I always tell my students to think of me as their editor, not their professor, and I'm just here to help them improve their skills.
Favorite part of this class?
My favorite part is that it's brand-new, so I get to build it from scratch! I hope that students who take this class, whether they go into journalism or podcasting or whether they pursue other careers, I hope they're able to take what they learn with them.