Aurora Berry Wins Third Place in Hearst Award's National Audio Championship
"I think there's something so special about telling a story with just the human voice."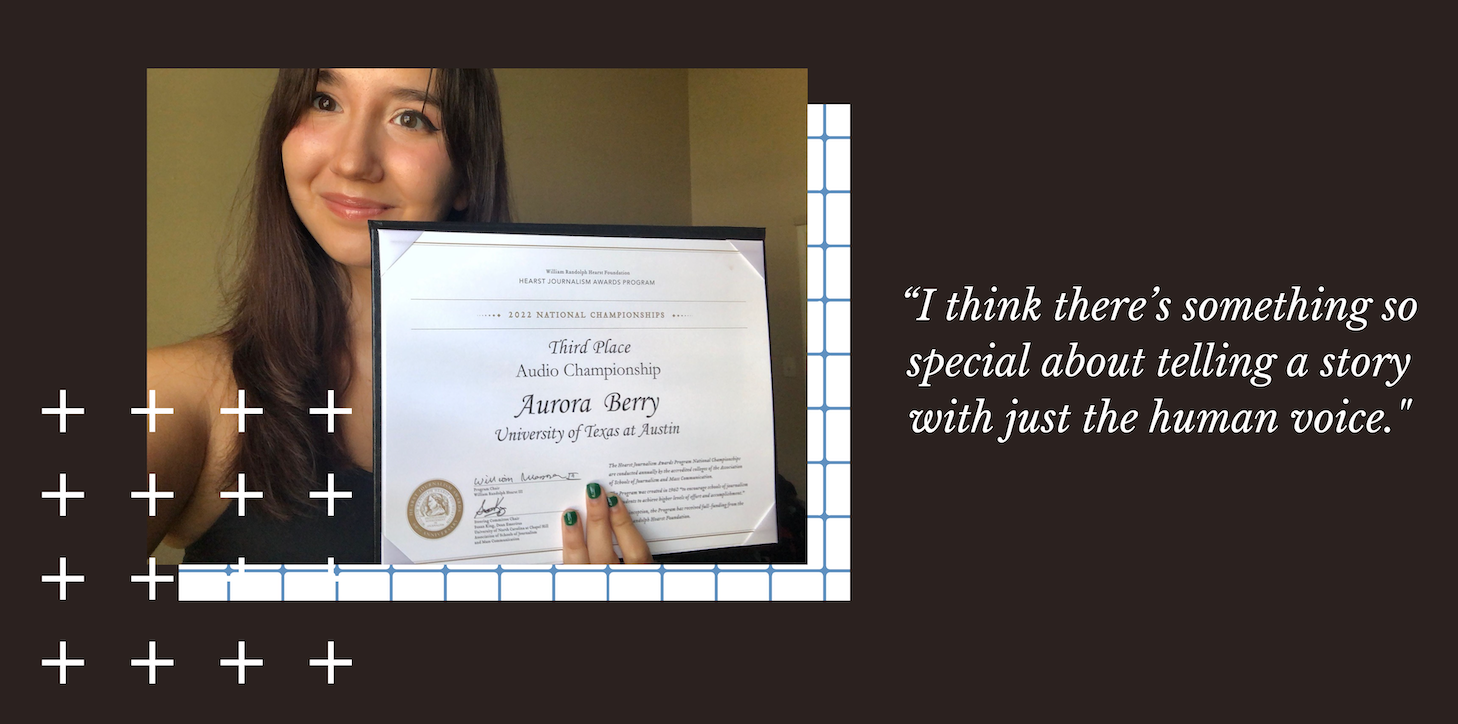 It was Aurora Berry's first time in San Francisco, or the Golden State for that matter, and she had three days to know it more intensely than a typical tourist strolling about Pier 39 would.
There in one of the Bay Area's most popular hubs, the rising senior placed third in the Hearst Award's National Audio Championship. Several months before the contest in May, she explored how discussions of gender identity contribute to the fabric of the "Rocky Horror Picture Show" and how TikTok users protested a Texas pro-life whistleblower website by confusing its system as the state's citizens grappled with SB-8. That work earned her spot in the championship, which prompted Berry to dive just as deep into another project — all in an unfamiliar city.
Hearst notified championship participants of what their assignments would be days before Berry headed for California. With that knowledge, they could make contacts but could not engage in any pre-reporting or sound gathering. During that period before the official start of the competition, Berry mulled over the question Hearst had posed to her and the other audio journalists: How does inflation and the cost of living affect San Francisco residents?
Berry found William Walker through his GoFundMe campaign after smartly perusing similar pages posted by people in the San Francisco area. She said  Walker is a low-income person who had been mistreated by his landlords, so he had been trying to buy his apartment back because being a renter proved more expensive. The senior spent a day as Walker's shadow, soaking up details of his life.
"I went into it expecting the story to be one thing, and then as I continued to live his life with him, I found that it was more of a story about being close to your family," Berry said.
She would discover that Walker's mother had moved to San Francisco in 1969. The city became a refuge from the racial violence his mother faced in Newark, New Jersey. His mother just so happened to visit while Berry was in town and ended up being a compelling piece of the story. Berry would learn that racism followed Walker's mother out west and that she had never been able to own a home or buy an apartment.
"Looking at her son who was working three jobs, she really hoped that he would be able to overcome a lot of the disadvantages that she had faced," Berry said. 
Their story moved Berry, who described the reporting process as an "interesting challenge."
She said economics reporting is not her forte, and that made her initially apprehensive in pursuing the assignment. "What made it easier for me was going back to that human story," Berry said. "Inflation isn't a graph that you're looking at, it's somebody's life, somebody's dreams."
While working for The Daily Texan during her freshman year at UT, Berry became more serious about audio storytelling. Editing audio didn't come easy to her at first, but with practice, she began to master it. Back in high school, even before she wanted to be a journalist, she always loved listening to NPR.
Audio journalism is an art the senior has excelled in. She utilizes her skills at The Drag, UT's audio production house founded in the Moody College of Communication. Robert Quigley, professor and associate director in the UT School of Journalism and Media, founded The Drag, which will be the home of Berry's upcoming podcast about climate change. Quigley said she is gifted.
"Aurora's success as an audio storyteller comes from her high-end reporting skills. She finds the right people to interview, gets them to say the right things and then writes compelling, conversational scripts," Quigley said. "She's a natural storyteller with an incredible work ethic. She's going to go far."
Thankfully, it's a craft Berry also enjoys. Something about audio journalism feels more intimate to Berry, more right for her than any other storytelling medium. That passion shines through her work and touches listeners.
"I think there's something so special about telling a story with just the human voice," Berry said.