Tracy Dahlby reflects on prolific teaching career as he readies for retirement
Of all the things, he'll miss the buzz of students before class most once he leaves the University of Texas.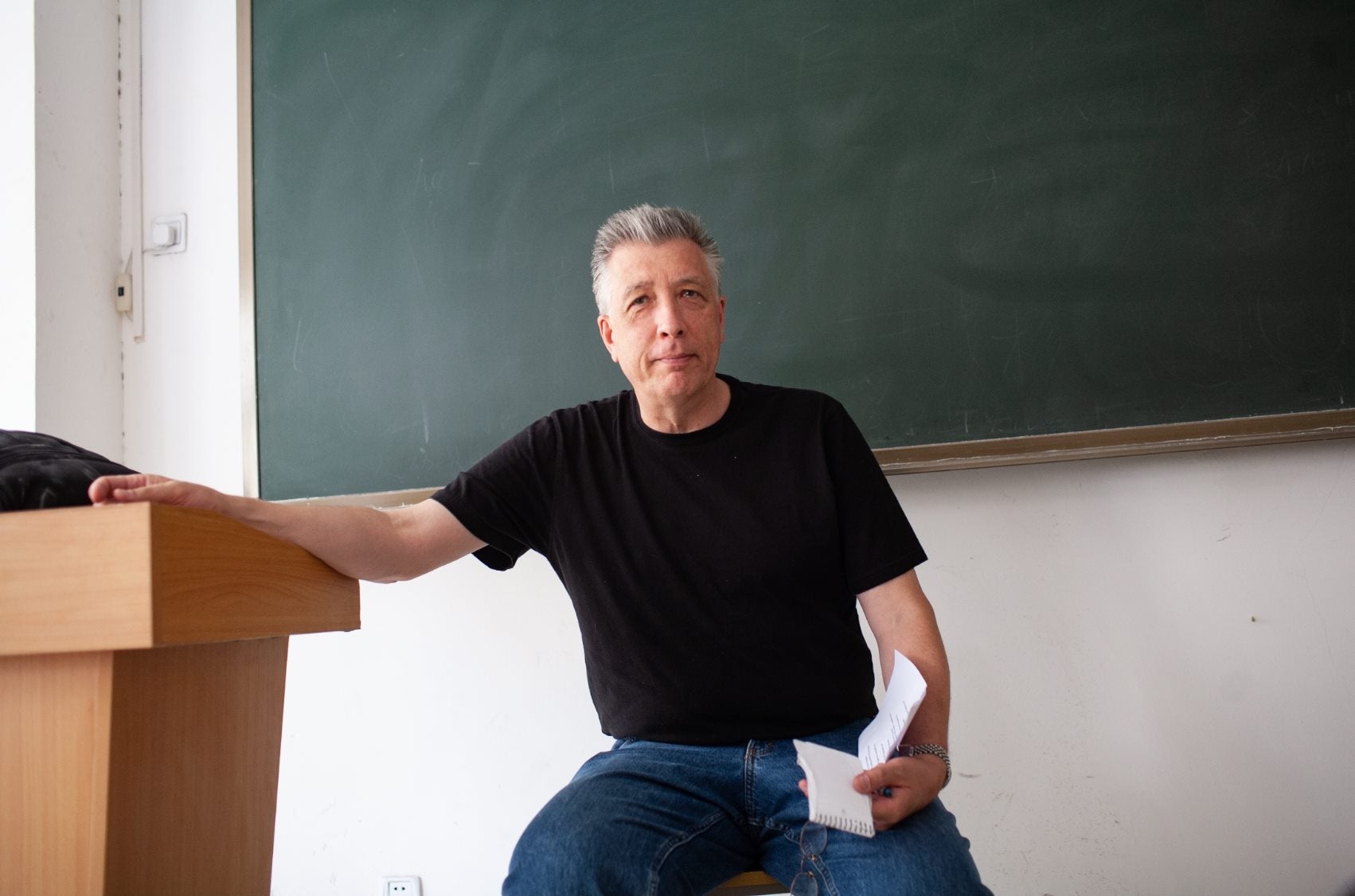 Tracy Dahlby sits in a classroom at a university in Shanghai during a Reporting China Maymester. Dahlby will retire from the School of Journalism and Media following the Spring 2022 semester.
In 2006, as Tracy Dahlby drove to work down the winding, tree-lined roads of Austin, he became acquainted with the charm of Texas. 
The tenured journalist-turned professor who climbed Mt. Fuji and once munched sautéed chicken feet on a Chinese ferry, never thought he and his wife would leave New York City and its crosstown buzz. There, Dahlby taught as a visiting professor in the writing program at Eugene Lang College, the New School for Liberal Arts. Once his one-year appointment ended, the college asked him to return. Then, the University of Texas called about an opening he applied for.
Dahlby didn't think he'd get the job, but he eventually became one of three finalists chosen to travel to Austin for an interview and give a talk. As fate would have it, Dahlby assumed his role as the beloved professor who has touched UT's School of Journalism and Media with his wisdom and wit for the last 16 years.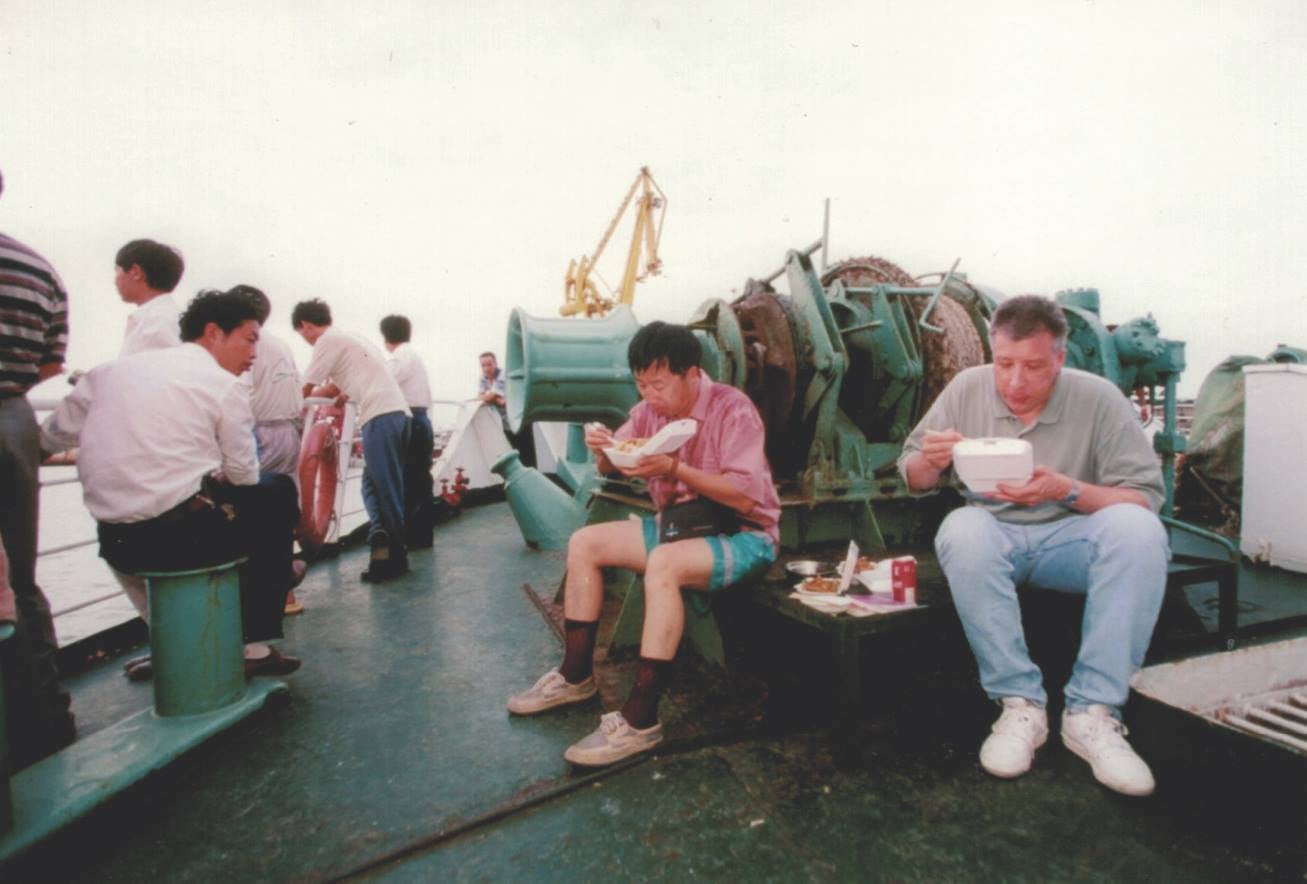 En route to Behai, China, Dahlby and his fixer Li Hubing eat chicken feet aboard a ferry. Photo courtesy of Michael Yamashita.
Initially withholding his plans from his wife, he broke the news to her that he would be interviewing for the position one morning over breakfast in their apartment on 89th Street and York Avenue in New York.
"Next week, I'm going to Austin," Dahlby told his wife.
"Where?" she said, looking at him in confusion.
He explained everything to her and the Dahlbys soon relocated to the Lone Star State.
"In the way that life is idiosyncratic, it turned out to be a great choice for us because I think we were ready for something new," said Dahlby, who knew little about UT or Texas before the move. He quickly fell in love with Austin and its artistic spirit.
Now, after wrapping up his last class of his teaching career, the former director of UT's School of Journalism and Media prepares for a different adventure: retirement. The 72-year-old began to consider leaving teaching as he noticed several colleagues he worked with upon his arrival in 2006 make their exits, one by one. 
"As the old saying goes, 'Every man needs to know when to leave the party,'" Dahlby said. "I hope I'm still vaguely relevant to my students, but that's not going to last forever, so it's better to choose your time to go out on your own."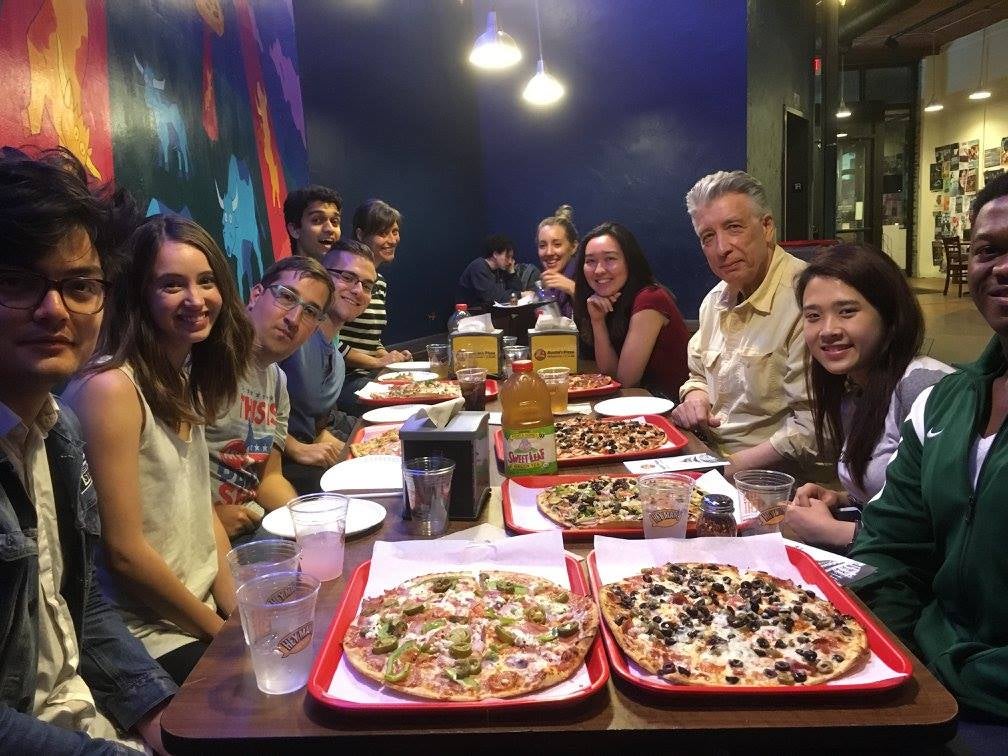 Dahlby and a group of students enjoy pizza on an end-of-semester outing he calls "Fun Day."
Three years after completing the Long-Form Feature Writing course, Jade Fabello still holds Dahlby in high regard. The 2020 UT graduate said the towering professor, whom all his peers loved because of his deep, gravelly voice and entertaining stories, impressed him from the start. 
A political speaker who already knew how to utilize his voice, Fabello learned from Dahlby how to inject that same emotion into his writing. He now works as a freelance journalist who has had essays published in publications such as Texas Monthly. 
Dalhby taught him to treat writing as a craft and to be a good person while doing it. Also how to tap into his humorous side. 
"'I remember he sent me an email not long after I graduated, and I just remember the greeting in it was so cool," Fabello said. "'It was like ' Hey Jade, hope you're doing well and giving citizen Covid the slip,' or something like that. Whatever it was, it inspired me to start signing off my emails in more interesting ways.'"
As for John Savage, a lecturer in the School of Journalism and Media and former student of Dahlby's, the professor taught him how to prepare and complete tasks in a thorough manner. Dahlby plans each of his classes out to the tee and edits students' writing with profound detail and professionalism. 
"He works so hard to get the most out of his students and to challenge them intellectually, to improve their writing, to get them to really engage with the material," said Savage, who admits he utilizes Dahlby's techniques with his own students. "He inspires you to work hard, and you don't want to let him down."
Together, the pair led Reporting Texas, a digital media initiative based in the School of Journalism and Media. Dahlby started the initiative, which serves as a home for well-reported stories about the state, in 2009 during his tenure as the school's director.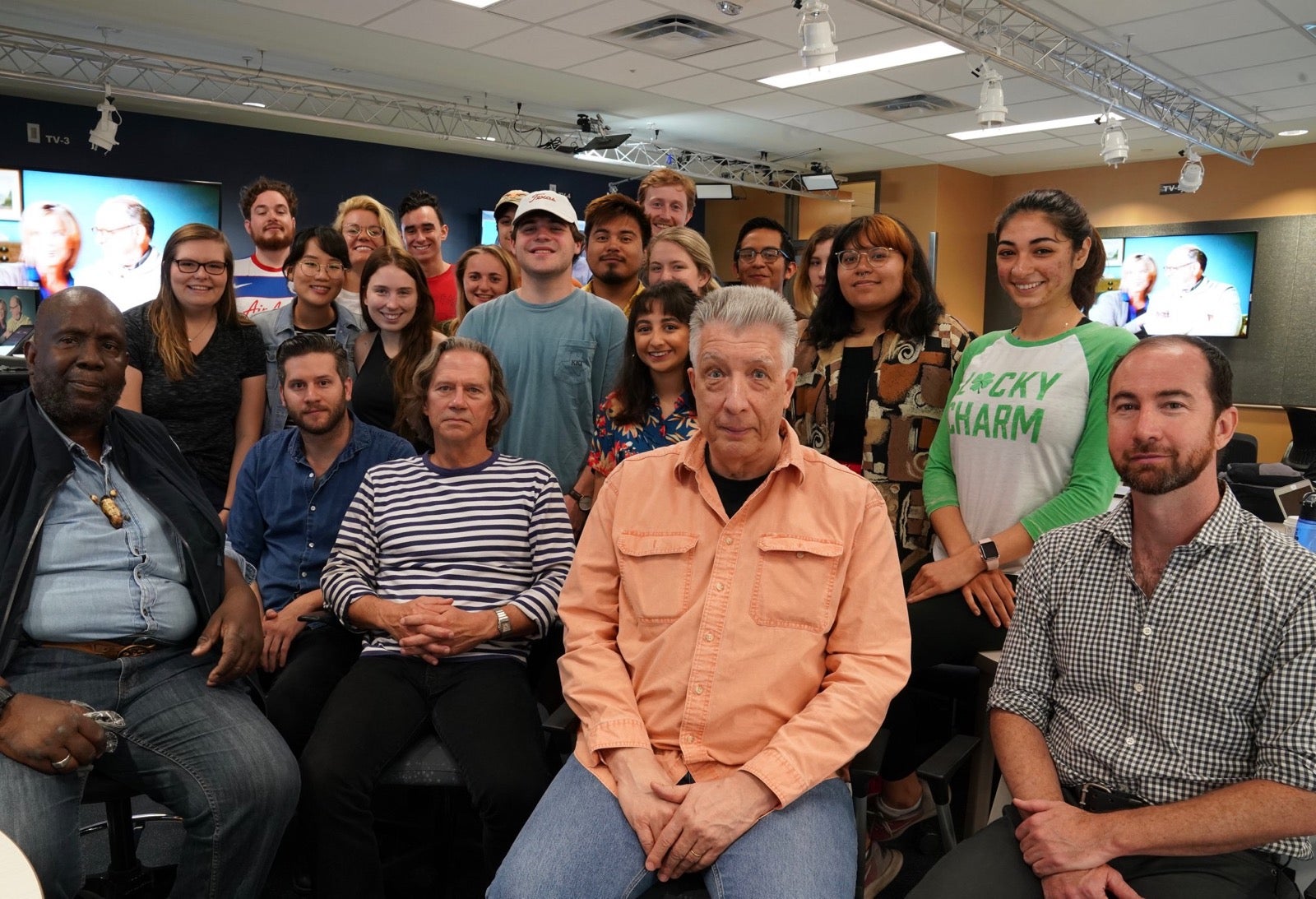 Joined by former journalism professor Eli Reed (far left) and journalism lecturer John Savage (far right), Dahlby poses for a photo with the Reporting Texas newsroom class.
Three years before he launched Reporting Texas, when he first arrived in Austin, Dahlby noticed his fellow faculty members using this new platform called Twitter. Supposedly, the website was the future of journalism which found itself moving away from newspapers. The smartphone revolution came soon after, further marking society's rapid technological advancement.
"I remember 2008 when I took students to China, … I had an old version of the iPhone and they were making fun of me because the new one was out," said Dahlby, who appreciates the benefits of technology but grapples with its deep effects on the world. "So I still wasn't on board with the revolution."
The digital age fascinates Dahlby. He came up during a completely different era of journalism. The era of perusing libraries to find a single phone number. The era of Watergate.
Dahlby loves that story of Carl Bernstein and Bob Woodward — The Washington Post's take down of President "I am not a crook" Richard Nixon. For the last several years, he's assigned students in his Fundamental Issues in Journalism class to watch "All The President's Men," the 1976 film starring Robert Redford as Woodward and Dustin Hoffman as Bernstein. 
That course, J301F, is the first class journalism students take in UT's program. Unlike the other courses Dahlby has taught, like Reporting the World and Long-Form Feature Writing, Fundamental Issues in Journalism (pre pandemic) took place in an auditorium to accommodate well over 200 students tasked with delivering the News of the Day. Dahlby always asked each brave soul relaying the news a simple, yet weighty question: "What's at stake?"
"I loved to be in the auditorium," Dahlby said. "I loved all the people walking in there, the buzz before class and then the questions during class."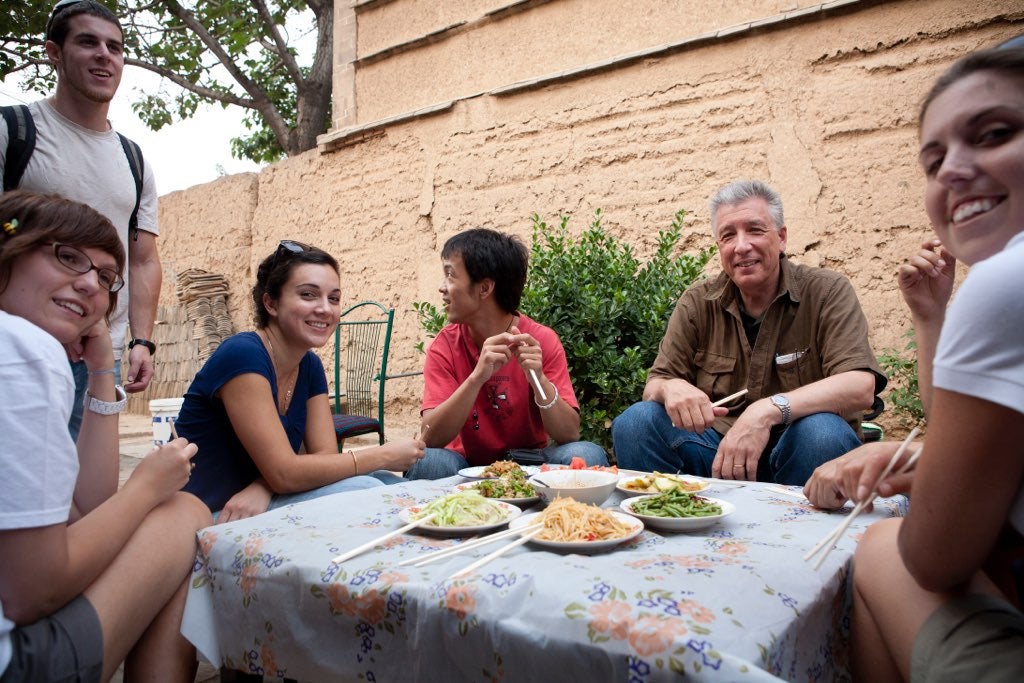 During a Reporting China Maymester, Dahlby and students dine in a farmer's yard in rural China. Photo courtesy of Rebecca Davis.
Of all the things, he'll miss that buzz most once he leaves the University of Texas. Dahlby never thought he'd be a professor as he traveled the globe during his reporter days, but his colleagues watched the way he mentored young journalists and figured he was a born teacher. The world has changed significantly since Dahlby first arrived in Texas, but the students have never stopped impressing him with their seeking to understand it.
In Austin, Dahlby did not encounter the rugged landscape where Davy Crockett roamed in the westerns he consumed as a child. He didn't fight tumbleweeds on the way to work. Truth be told, he didn't know exactly what to expect of this new land so different from New York, but he came with an open mind.
"It's hard to explain what you find when you come to Texas," Dahlby said ahead of his last few class sessions.
Maybe that's because what he's captured over the last 16 years is intangible. On this great adventure out west,  Dahlby found in his students a great treasure, "a precious commodity": curiosity.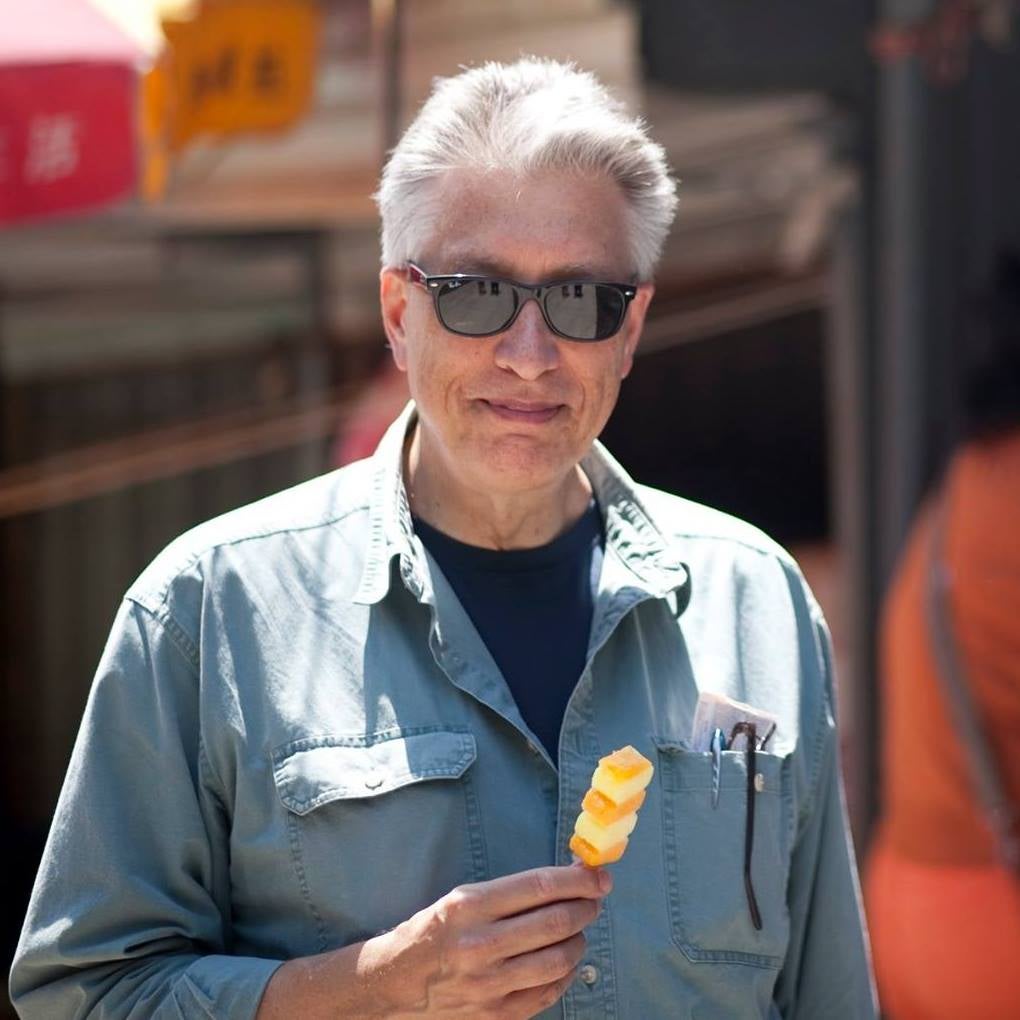 Photo courtesy of Lizzie Chen.