From Classroom to Newsroom
New Course Offers Ethical Leadership Training
Journalism schools, this one included, have long taught classes in ethics, with a focus on how journalists produce news. This semester, however, the School of Journalism and Media has joined forces with another Moody College department and The Press Forward, a non-profit organization, to debut a new kind of ethics course – one that addresses ethical behaviors in newsrooms. 
Five professors associated with the Communication and Leadership degree program and the School of Journalism and Media are behind the course titled Leadership in News Organizations. The web-based, three-credit-hour class is a pilot for a curriculum that will be open-sourced and offered free to universities and news organizations around the world by the 2022 academic year.
The Press Forward's mission is to advance ethical culture in the news industry through training, research and education; together, The Press Forward and UT seek to train future journalists to be meaningful contributors in today's newsrooms on their way to becoming tomorrow's ethical, effective leaders of news organizations.
"The revelations of the #MeToo movement, business model and digital disruption, declines in audience and readership, and lack of gender and racial diversity in news organizations point to a larger issue: the need for fostering and nurturing ethical, effective leadership and management of news organizations," Carolyn McGourty Supple, The Press Forward co-founder and executive director, recently said in a news release. 
McGourty Supple announced that Craig Newmark Philanthropies donated $160,000 to advance The Press Foward's programs, including ethical leadership and management instruction in journalism schools. McGourty Supple has been a Moody College visiting professor while helping develop the newsroom curriculum.
"There is a myth that leadership can't be taught--that one can only learn it from experience," said Dr. Minette Drumwright, director of UT's Communication and Leadership program, Press Foward's executive chair and co-lead of its ethical newsroom project. "The truth is that people know how to learn more from their experience when they have studied leadership. If we want leadership to be a core competency of journalists, then it needs to be taught in journalism schools everywhere."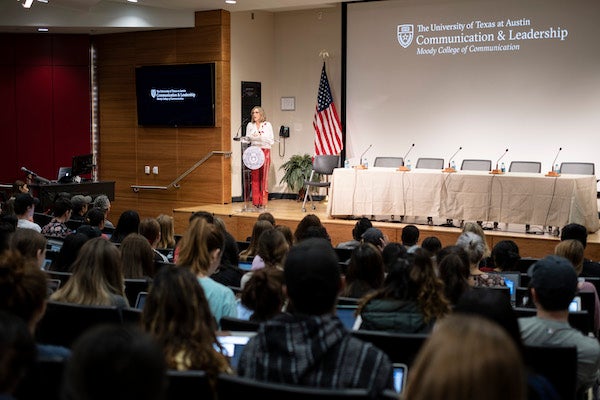 CNN's Alisyn Camerota speaking to students at a Press Forward event in 2019.
The course builds on Dr. Drumwright's research and instruction – and her drive for better leadership. She has a joint appointment on the faculties of the Stan Richards School of Advertising & Public Relations and Business, Government and Society (BGS) department in the McCombs School of Business.  
"Leadership is interdisciplinary, and Moody College is uniquely prepared for this collaboration because we can draw not only on our own journalism, media, and leadership faculties but also on the entire university," Dr. Drumwright said. She said other McCombs faculty and staff are contributing to the curriculum: Robert Prentice, faculty director of "Ethics Unwrapped" and Cara Biasucci, director of Ethics Education for the Center for Leadership and Ethics. Biasucci and Prentice are creating custom videos for the new curriculum, and it incorporates various existing Ethics Unwrapped videos as well.
In addition to industry leaders, Moody College students attended focus groups to contribute their voices to the curriculum. Jade Fabello called ethical leadership training "an absolutely essential step to earn the values that we say we have."
"There is so much talk about the importance of journalism," said Fabello, who graduated in May with degrees in Journalism and Communication and Leadership. "But I don't see enough training to address to ethical problems of the field. Journalists spend so much time looking at the world, that I find we forget to look inward.
Samantha Shaps, a Journalism and Media senior, said schools should teach students the specifics of journalistic production while also equipping them with the skills necessary for navigating the industry. 
"The future of journalism depends on the empowerment of young journalists, which begins with the introduction of leadership skills into the curriculum," she said.  "As the industry continues to change and adapt with the times, students must learn how to adapt, too."
Teaching the UT pilot course is Dr. Joe Cutbirth, who was a statehouse reporter for the Fort Worth Star-Telegram, editor of the Texas Observer and a Huff Post politics blogger before joining academia. His upper-division class will lead students to develop a personal ethics plan that applies to their career goals.
"The course is designed to give students something they don't get in traditional curriculum," Dr. Cutbirth said. "They'll get the tools that will help them bring the best parts of themselves to their work and a sense of confidence that doing so will improve their reporting and help this industry live up to its potential." 
A key part of the UT course and the overall curriculum are case studies about newsroom dilemmas. Dr. Jennifer Jones Barbour, a Communication and Leadership and Communication Studies faculty member, leads the effort to develop these cases and teaching notes.
The open-source curriculum will be designed to help young journalists understand current challenges and opportunities in leading and managing news organizations. The curriculum will include modules on personal skills (making ethical decisions, giving voice to values, developing self-awareness, managing stress), interpersonal skills (communicating supportively, gaining power and influence, managing conflict, empowering others) and group skills (building effective teams, creating a positive organizational climate and leading positive change). Its modules can be used as a  standalone or incorporated into existing courses.
The national curriculum was announced on Feb. 21 at a workshop convening news and academic leaders at UTNY in Manhattan. The major rollout and dissemination of the curriculum will begin during the 2021-2022 academic year.
Editor's Note: This article was revised on February 1, 2022 to reflect updated information.
For comments or questions about this ethical newsroom leadership curriculum, please contact Kathleen McElroy, director of the School of Journalism and Media and co-lead of The Press Forward project. Her email is kathleen.mcelroy@austin.utexas.edu.