Minority journalism organizations create safe space of belonging and growth for college students
"Organizations like these make space. They make a safe haven for students who may feel alone or outnumbered."
CHELSEA MORENO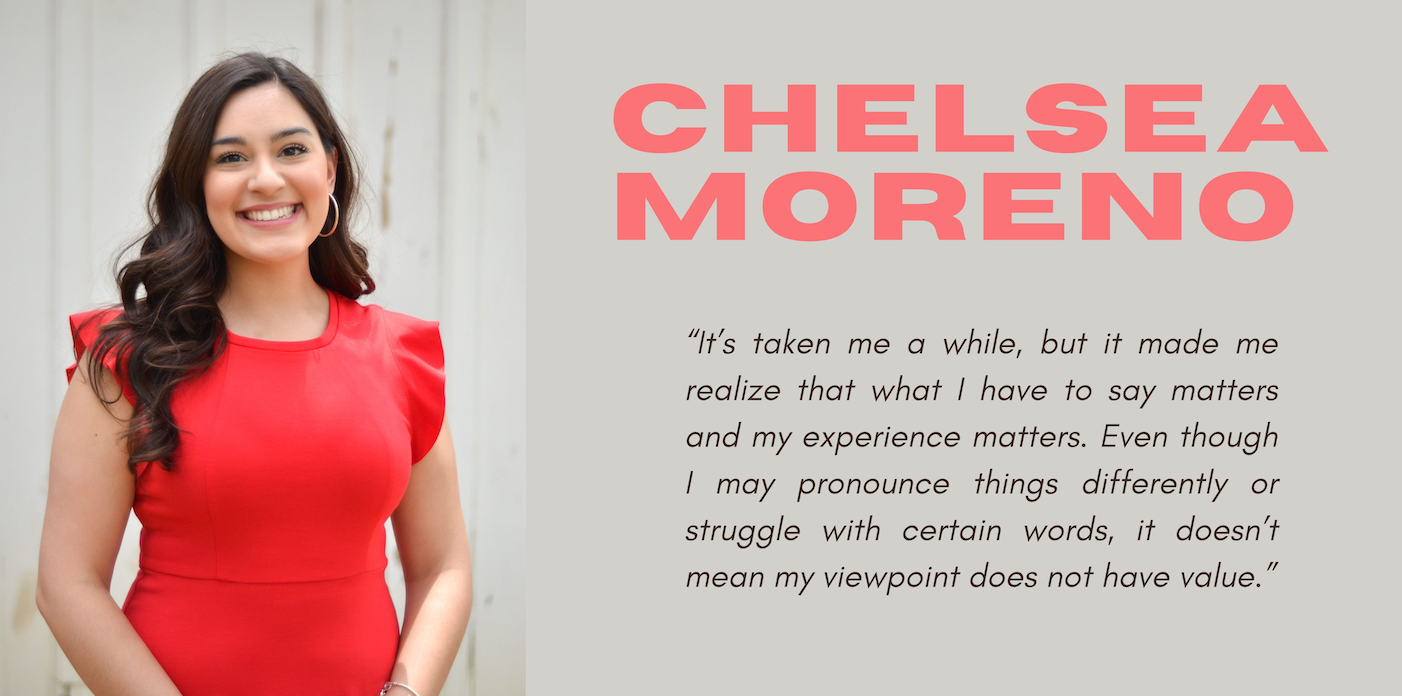 When Chelsea Moreno first got to the University of Texas at Austin, she didn't feel like she fit in. Moreno grew up in El Paso, a border town where people all spoke Spanish and grew up eating the same foods. UT Austin was a whole different world.
She started taking classes within the Latino Studies program and met people who understood her through shared experiences and language. 
"Since you're going through it together, it really helped give that confidence to say, 'Well, if they can do it, then maybe I can,'" Moreno said. "It's taken me a while, but it made me realize that what I have to say matters and my experience matters. Even though I may pronounce things differently or struggle with certain words, it doesn't mean my viewpoint does not have value."
It was here at UT Austin that Moreno found her passion for journalism and storytelling. She remembers Professor Kate Dawson showing the class compelling, visual stories, from tragedy to someone's very best day. 
"I realize that I could spend time with people and understand their background, and most importantly share that with the world and hopefully foster understanding with other people too," she said.
One of Moreno's favorite stories was about Tim Revell, a father who has run the Austin marathon for more than 10 years to raise money for his two sons with Duchenne muscular dystrophy, a genetic disorder that results in the degeneration of muscles. 
"When I met this family, they invited me to their home and just showed me their life … all this life that they had lived beyond their diagnosis," she said. "Journalism and life is about relationships. That's why I got into journalism in the first place."
Moreno said organizations that support minority journalism students such as the National Association of Hispanic Journalists (NAHJ) play such an important role for college students. Moreno's professor, Maggie Rivas-Rodriguez, introduced her to the NAHJ conference, where students paired up with a mentor and worked on stories leading up to the conference. The encouragement of her mentor and sense of community around her meant everything. 
"The hardest thing was just feeling like I had a place at UT," she said. "I'm so thankful that I had professors and people around me who made me feel like I was supported. You're not going to be perfect every time. Just enjoy it and make the most of every opportunity."
Moreno's gratitude for her professors and peers extends beyond herself. With all the opportunities she was given at UT, she said it is important to uplift others. 
"Keep remembering to give back to people around you and as you keep rising up, pull up as many people as you can with you," she said. That's just what life is about: helping other people."
Moreno wants students like her to dream big and to not let fear be a barrier to their dreams.
"Don't forget that you belong there and you're there for a reason," she said. "Your biggest, scariest, most, deep, darkest dream … dream it and go after it."
Check out the National Association of Hispanic Journalists on its socials: @txnahj
LINDA HAMILTON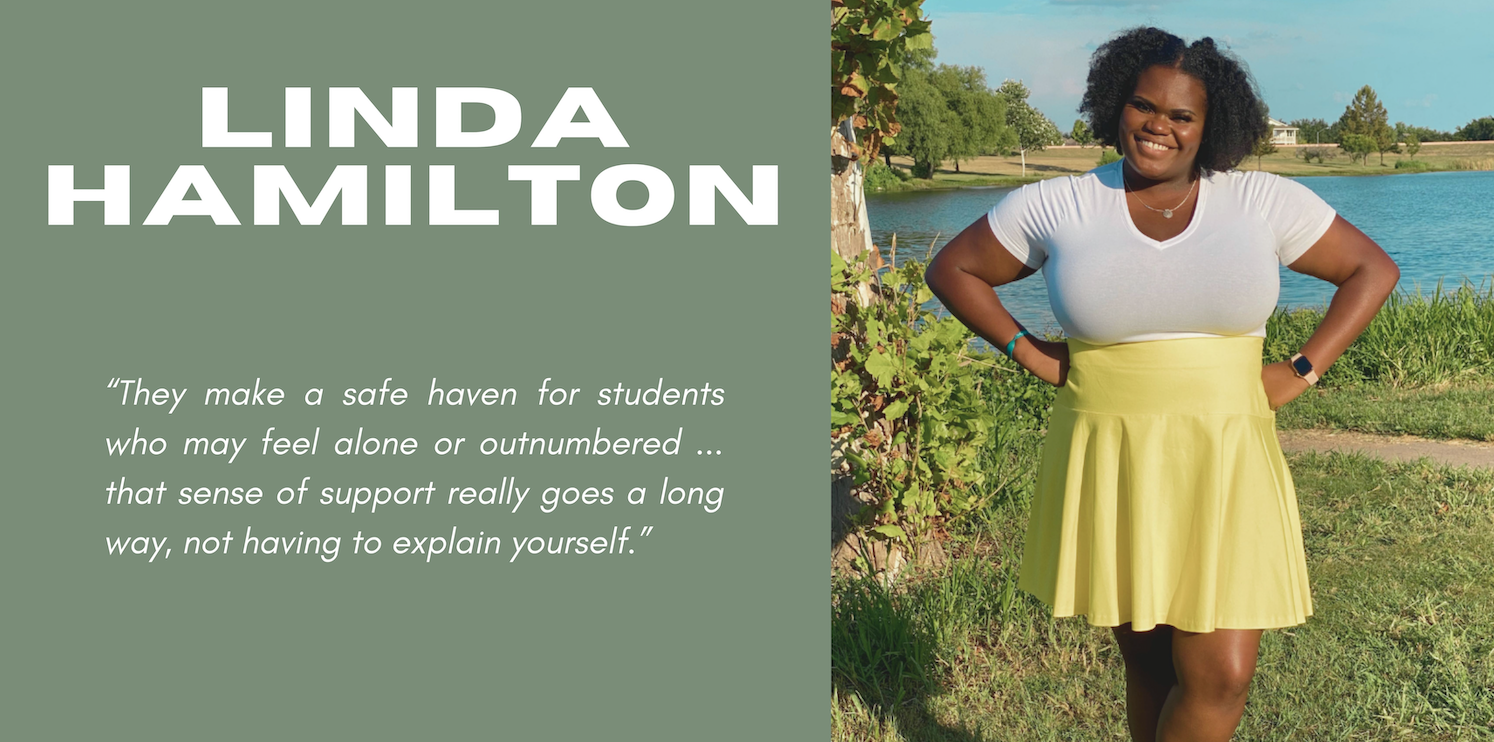 People told Linda Hamilton that she had a voice for news and radio. She loved the idea of dressing up, doing her makeup and sitting in front of a camera. But being famous wasn't the big reason. 
"It's very important to have representation in all aspects of the world," Hamilton said. "I definitely think having more minorities, minority women more than anything on television, is a big part of it."
Hamilton said going to a predominantly white institution like UT Austin as a Black woman meant that microaggressions were bound to happen. 
"Women have it hard enough," she said. "Then you add minority woman: Hispanic, Latinx, Black, Asian. We're looked at as less than. It's just like our voices aren't heard."
Hamilton said she wishes people saw her for more than her skin color or her name, for the full intersectionality of her humanity. 
"Whenever people make presumptions about you based off your skin color, and not the credentials you have on your resume and your cover letter, that is one thing I wish would go away," she said.
After learning how few Black journalism students there were, Hamilton needed that sense of community and connection. She decided to go to the National Association of Black Journalists' (NABJ) first general meeting with a friend she had made.
"[Organizations like these] make space, " Hamilton said. "They make a safe haven for students who may feel alone or outnumbered. I know there have definitely been times in my classes where I'm the only Black person."
She said minority-centered journalism organizations give students a sense of safety and a space to relax.
"It just gives you the chance to be honest with people that can relate to you," Hamilton said. "That sense of support really goes a long way, not having to explain yourself."
Her advice for other minority journalism students is to take up space and show up authentically. Hamilton never would have imagined she would be president of an organization she initially joined to find her own support. From serving as a mentor to simply being a friend, Hamilton's favorite part about being a leader is helping others. 
"I always want to do something every day that contributes to someone else's happiness," Hamilton said. "Being a leader gives me an opportunity to really do that to the fullest."
Check out the National Association of Black Journalists on its socials: @nabj_utaustin
NATHAN HAN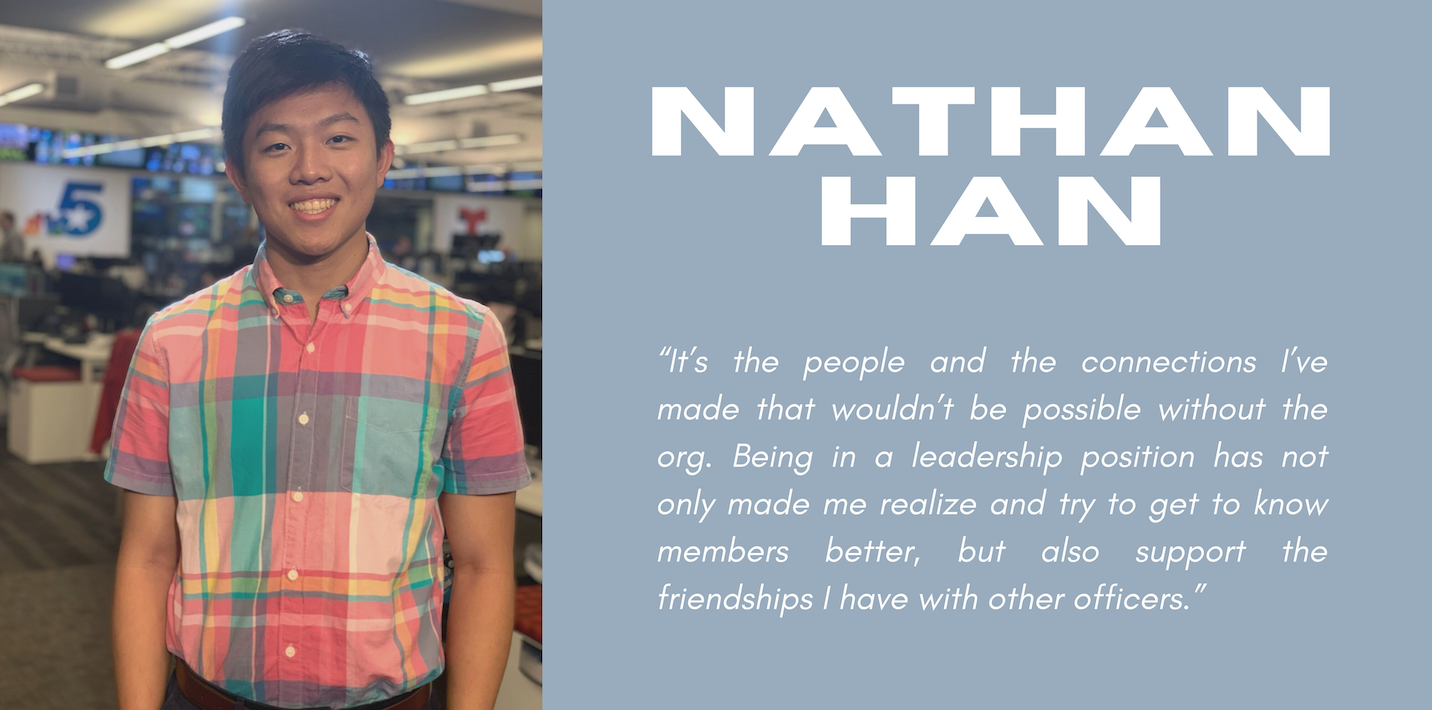 Nathan Han joined the Daily Texan, UT Austin's student-run newspaper, his freshman year. When Han first heard about the Asian American Journalists Association (AAJA), he didn't know what to expect. More than two years later, Han said the cliches were true. 
"It's the people and the connections I've made that wouldn't be possible without the org," he said. "Being in a leadership position has not only made me realize and try to get to know members better, but also support the friendships I have with other officers."
Han said organizations like AAJA are really important in creating a place for journalists and students of color to have a community centered around journalism that isn't school or work.
"There isn't that external pressure of work or deadlines hanging around," he said. "In my experience, that leads to more genuine connections from people who are also still just going through the same thing you are."
Being a part of AAJA has also opened up many opportunities and connections for Han, whether it was a fellow intern or boss at an internship.
"Build relationships with and find mentors you can trust," Han said. "Those people have been life savers for me." 
Check out the Asian American Journalists Association on its socials: @ut_aaja