"You absolutely belong" Kathleen McElroy empowers students to be the next generation of ethical leaders
"It's important that you know what it takes to be a leader. What it takes to have a voice in the newsroom."
Kathleen McElroy can map her life through sporting events on her calendar. In her hometown of Houston, she grew up watching sports with her parents and relished the idea of getting paid to sit in a press box and eat free food.
McElroy, whose father was a journalist, said she always knew she wanted to pursue journalism.
"I've always been around journalism," McElroy said. Her parents even used to punish her when she did something wrong by taking away the sports section of the newspaper.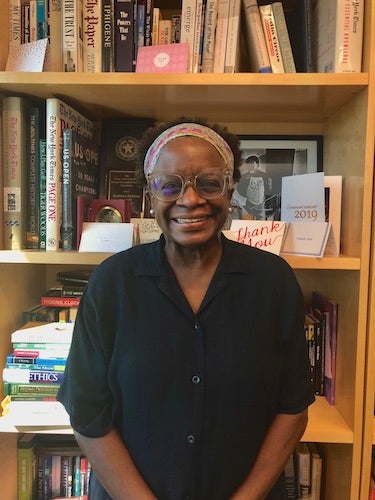 Seeing the School Shine
McElroy, director of the School of Journalism and Media since 2018 at the University of Texas at Austin, said what she cares about most as director is seeing students, staff and faculty shine. 
"This isn't about being the No. 1 school or having the most money," McElroy said. "Are people having the best experiences? Is this an opportunity for us all to grow?"
McElroy said she knows not every student grew up around journalism or had a program at their high school. But she said everyone has the ability to thrive at the journalism school no matter what experience they arrive with. 
"The beautiful thing is that when (students) get here, everybody has the opportunity to grow as that person needs to grow and learn as that person needs to learn," McElroy said. "We all struggle with that sense of belonging … You belong. You absolutely belong."
Creating the Next Generation of Leaders
McElroy was an editor at The New York Times for 20 years and is passionate about learning how race intersects with news media, along with newsroom ethics. 
In collaboration with the Communication and Leadership MAJOR and The Press Forward, a nonprofit with the mission of creating safe, fair working environments for journalists, the School of Journalism and Media created a new ethics course titled, "Leadership in News Organizations." The class is a pilot for a new curriculum that will be open-sourced and free to universities and news organizations around the world with the goal of teaching young journalists how to lead and manage ethical news organizations. 
"It's important that wherever you are, you know what a safe workplace looks like and feels like," McElroy said. "It's important that you know what it takes to be a leader. What it takes to have a voice in the newsroom. These are things that we're now all wanting to make sure our students understand."
McElroy said the journalism school's goal isn't just about making sure students end up in newsrooms, but empowering them with communications skills that students use ethically and for good. While McElroy's role as director involves financial logistics and curriculum planning, she said she really loves seeing students come to her office and connecting with them on a more personal level.
"One of the best things about college is that you can try things," she said. "Use this as a time of, 'I'm going to try this and it's okay if I fall on my butt.'"
Enjoy the Journey
McElroy has advice for all the students who get stressed as they navigate new experiences: enjoy the journey.
As someone who has been trying to hit a volley in tennis for 40 years, McElroy said the pandemic taught her that tennis was less about being good, but about community and play. In the same way, she said she wants students to be gentle on themselves when they feel imposter syndrome. 
"Nothing is forever. Nothing is fatal," McElroy said. "You don't have to know what you want to do when you grow up. I don't know what I want to do when I grow up and I'm 62 years old."
One of McElroy's most memorable stories was during her time at The Battalion, the student newspaper at Texas A&M. A member of the cleaning staff happened to strike a conversation with McElroy, which turned into a story about a college student in her 70s going to community college during the day and cleaning at night. All because she happened to be hanging out in the newsroom. 
"Always be in [a] position to have questions," McElroy said. "Everybody has these wonderful stories. We just have to find them."