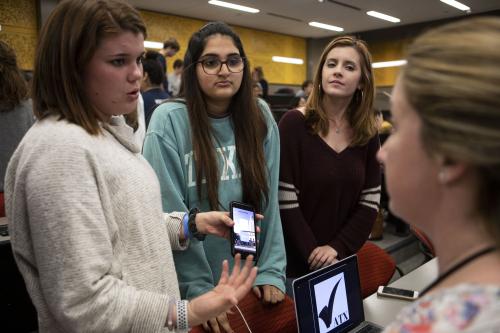 By Aubrey O'Neal
This year marked the first time UT Austin Journalism hosted a hackathon. Co-sponsored by the Dallas Morning News and centered around the goal of engaging audiences in the 2018 General Elections, this event brought 300 students from many different majors. After hours of brainstorming, design thinking, workshops, and hacking, these students generated amazing and innovative solutions in the form of a card game, chat bots, apps, websites, posters, podcasts, and videos. We are pleased to share 30 projects here, including our winners of the event!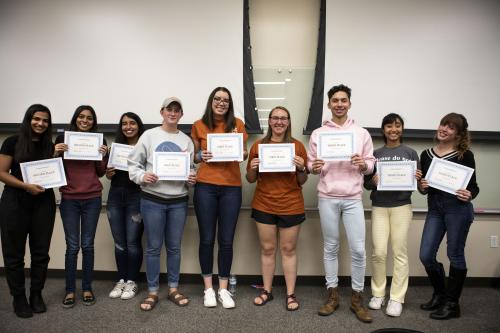 Nov. 3, 2018
The winning teams
After much deliberation, the judges ultimately selected the top three teams based on creativity, design and usefulness, among other criteria. They decided that the most innovative projects of the event were a card game, a bot and a podcast.
1st Place: Agenda
By Allie Runas, Kailey Hunt, Claire Tichy
A card game to encourage young voters to learn about city politics
2nd Place: SAM the bot
By, Sana Hameed, Soha Allauddin, Sehrish Rupani
SAM the bot is a functioning bot that can be easily accessed through Facebook Messenger. SAM was created to be the go-to platform to answer all your questions about voting in a way that would be simple and efficient.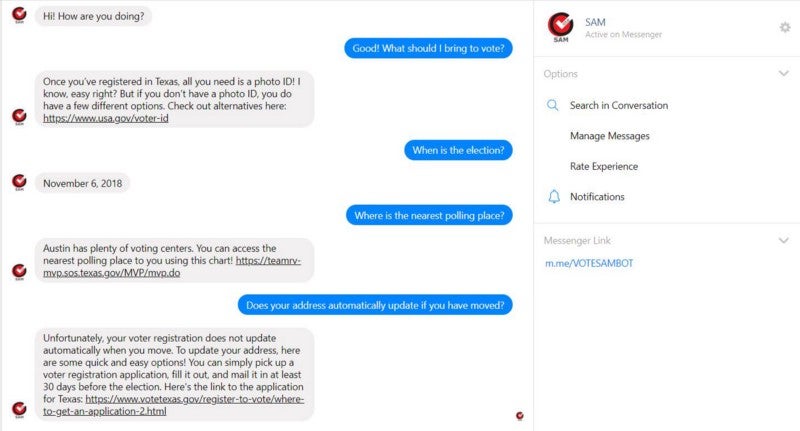 3rd Place: Voice Without A Vote
By Alyssa Hiarker, Guinevere Govea, Juan Núñez
A podcast series that amplifies the voices of those who are ineligible to vote for a myriad of reasons and allows them to discuss policies that actively affect them and endorse candidates. Each episode focuses on a different group who is ineligible to vote.
We planned for the podcast to have five episodes, each featuring one interviewee from specific demographic groups of those not allowed to vote, including non-citizen residents, felons, kids, undocumented immigrants, and the mentally incapacitated.
During the hackathon, we created our first podcast episode of the series. It featured Juan Núñez, an international student at UT. The podcast was roughly ten minutes long and featured facts about voter eligibility, a two-on-one interview with Juan, and an endorsement of the political candidate Beto O'Rourke at the end of the episode.
"In addition to the podcast, we also created a website, Instagram, and Facebook page for Voice Without a Vote. We sought to use these social media sites to gain a larger following for the podcast as well as to give as many people as possible who are ineligible to vote a platform to voice their political opinions and have them heard." — Guinevere
Honorable Mention: Money Votes
By Colby Frazier, Kara Fields, Emma Gordon, Raven Hamilton, Linda Hamilton, Lizzy Canales, Ricardo Ramos, Gabby Alvares, Estrella Hernandez, Julie Tran
Our app scans political ads and everyday products to teach you about the political affiliations of companies and policies of candidates.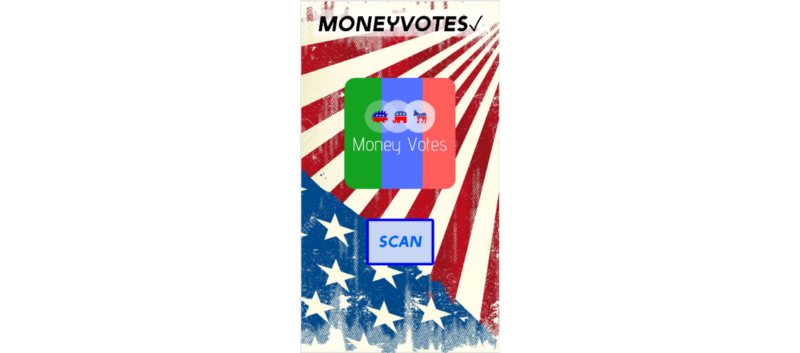 More hackathon projects
By Hayden P, Mackenzie D, Ashleigh O, Izabella S, Hannah B, Alexis S
A podcast informing young and/or new voters on the process.
By Kei Hsu, Alexandra Currie-Buckner, Taylor Tice
txgovprofiles.tumblr.com is a website intended to make information on each candidate more comprehensive and accessible.
By Claire Starling, Sara Johnson, Stephanie Gomez, Wen He, and Kate Rominger
New News is a digital news publication and content platform designed to keep 15–21-year-olds civically engaged and informed about current events.
By Laura, Molly, Pooja, Sandy, Jesse, Becca
Politiwoke is a website with social media platforms where we engage our audience to become more informed voters before going to the polls.
By Jessica Zhang, Kim Hsun, Riya Butani, Tristan Stitt
A browser extension (google chrome) that, once turned on, will evaluate a page, article, story, tweet etc. and give it a credibility rating. This would enable users to find out where their information is coming from, if it can be trusted, and if the source is reliable.
By Kathleen Doviken, Ryan Steppe, Marco Guajardo, Will Xu, Mahir Karim
The best way to describe it is Rotten Tomatoes for political candidates, with an emphasis on trusting news media as the "critics." The goal is to package information on candidates and officials in a more palatable way, so people will go into elections more informed.
By Jasmine Valencia & Brooke Sumners
What's better than a coloring book? A coloring book of Texas Senate election memes created by the designers of Young and Confused to inspire a new and unexpected conversation about voting among millennials and Gen Z'ers. You can follow them on Twitter at @PodcastYAC
By Brian Couer
Dancing in Pairs is a conversation that uses popular cultural ideas and idols, to tell stories that educate the public about issues that are resonating around the election. The mashup style will be used to frame data on Polls, on Inequality, on Tax Havens through the imaginary eyes of popular music and TV celebrities.