An eye-opening experience
Mar. 26, 2019
Last year, I heard about South By Southwest for the first time in my life. Back then, I was a graduate student in China. One of the Chinese doctoral students at the University of Pennsylvania went to SXSW that year and shared many interesting things he learned from the conference. Because of this, I was so thrilled when I found out that The Dallas Morning News Innovation Endowment would send me to this year's SXSW festival. 
Throughout the course of the festival, I went to several AI and blockchain panels because one of my research interests is how Artificial Intelligence (AI) changes the media industry. Panels with AI-related themes were really popular. We had to line up for about half an hour before each panel in order to get in, despite having an interactive badge.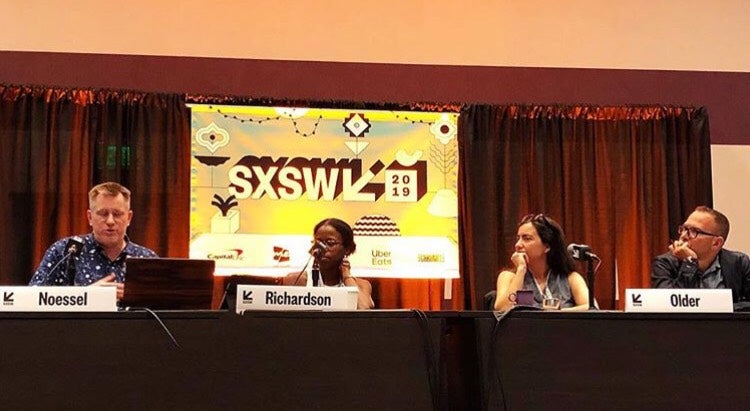 As a doctoral student majoring in journalism, I was inspired by multiple, brilliant ideas from experts in other fields. One illuminating concept was the "computational language" put forward by Stephen Wolfram, the founder and CEO of Wolfram Research. Computational language, by his definition, is a language with "a unique bridge between human computational thinking and actual computation and knowledge delivered by a computer." Basically, computational language can be understood both by the computer and a human. 
He talked about the essential role that computational language would play in a new era of global automation. Wolfram has been working on building the technology to support computational language for several decades. Based on the computational language, he also put forward a concept named "computational contract," which might be an impetus for the future development of blockchain. With computational contract, we can write contracts in codes that humans can understand and machines can also automatically execute. 
One of my research projects is about the audience perception of the automated journalism. When I was listening to Stephen Wolfram's speech on computational language, I was thinking whether this system could be applied to the media industry in the future. Would that, to some extent, solve the semantic obstacles automated news algorithms are facing right now?
During SXSW, I was impressed by the innovative work of many AI startups. Corto, for instance, is an AI-driven database to semantically represent and analyze complex data. One of their businesses is to identify data hidden in the footages of movies, such as the character's name, sex, age, sentiment, activity, color of dress, and so on. Mackenzie Leake, a computer science PhD student at Stanford University, also developed a software that analyzes footage using AI to recognize faces, shot types and transcribe the spoken words.
Despite the fact that AI is a cutting-edge and thrilling new technology, experts at SXSW all acknowledged the threats and limitations of using AI to create content. First, AI needs clean, unbiased, structured data. Second, storytelling is highly symbolic, which is always going to be a big challenge for AI. Additionally, the use of AI might compromise a human's artistic integrity. It is worth noting that the emerging industries of AI could be a double-edged sword. As the CEO of Voicea Omar Tawakol mentioned, the problem with most AI is that "it will destroy more jobs than it creates and shift wealth to those with resources."
As a journalism student, sometimes I felt like I was restricted to my own field without taking another perspective. Learning and absorbing opinions from a wide cross-section of people pushed me out of my comfort zone. SXSW was definitely an eye-opening experience for me!