This fall, students are back in the classroom and are in the midst of creating projects that combines all of the knowledge they have learned in the Journalism school. From designing data tools for journalists to incorporating non-fungible tokens (NFTs) into news organizations, these students are representing what it means when Longhorns say what starts here, changes the world.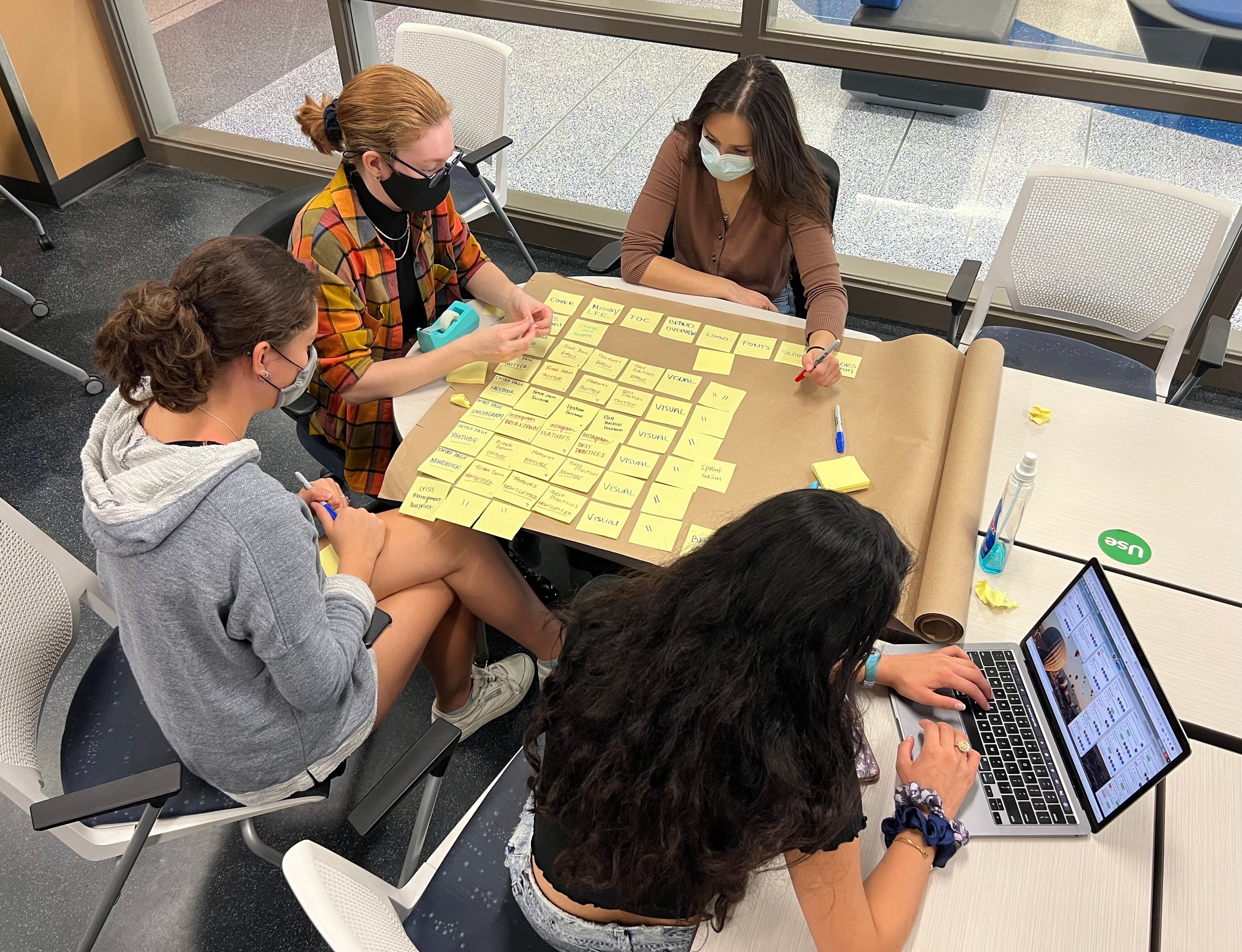 Here are Fall 2021 Digital Innovation Capstone teams and projects:
1. Student Spotify & Round-Up
Group Members: Bethany Stork, Anissa Reyes, Ana Garza, Carson Tabakin
After noticing the lack of community building within Spotify, these students are looking to build an additional feature to Spotify's user experience: Student Spotify, a curated dashboard of podcasts and other material associated with the student's university. The star feature of the dashboard will be the Round-Up Podcast, produced by the team and featuring student voices from the university. They also hope to promote student organization podcasts and campus news.
Read more about the Student Spotify & Round-Up project here.
2. TRACY: The Transparency Portal
Group Members: Areeba Amer, Kenny Jones, Laura Morales, Jimena Pinzon
The goal of this team is to lay solid groundwork for a digital tool designed to streamline data sourcing and usage in newsrooms and to centralize all previously requested public information. With this tool, reporters can see what data the newsroom already has access to, learn context about already-processed records and datasets, and identify more pitches to refine their reporting. Editors will also have access to the database to verify calculations or deductions made from public information requests.
Read more about TRACY: The Transparency Portal project here.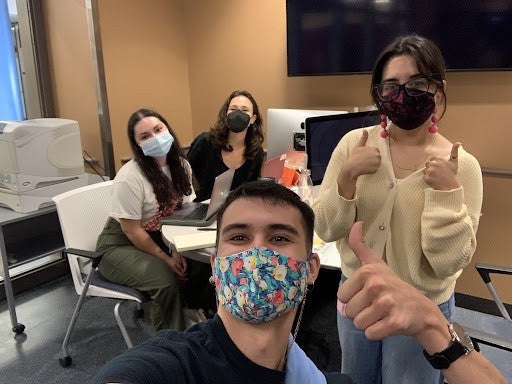 3. Public Health Watch
Group Members: Kaylee Benavides, Carissa Georgelos, Jasmine Lopez, Julia Rasor
Public Health Watch is about providing guidelines for Public Health Watch media management, allowing them to create a consistent and effective presence on various mediums to better reach and connect with their audience.
Read more about the Public Health Watch project here.
4. Show Me Wear
Group Members: Roxanna Sanchez, Alexis Stanley
This team plans to create a site that will feature a series of responsive images of on-campus fashion. Users will be able to click on articles of clothing and gain information about the brand, where to source the item, what it adds to the outfit based on participants' responses, and will create a picture of the thinking that went behind the person's current style of clothing. Fashion is more than visual art. It has the potential to tell a story about the person wearing it and what they wish to convey to others.
Read more about the Show Me Wear project here.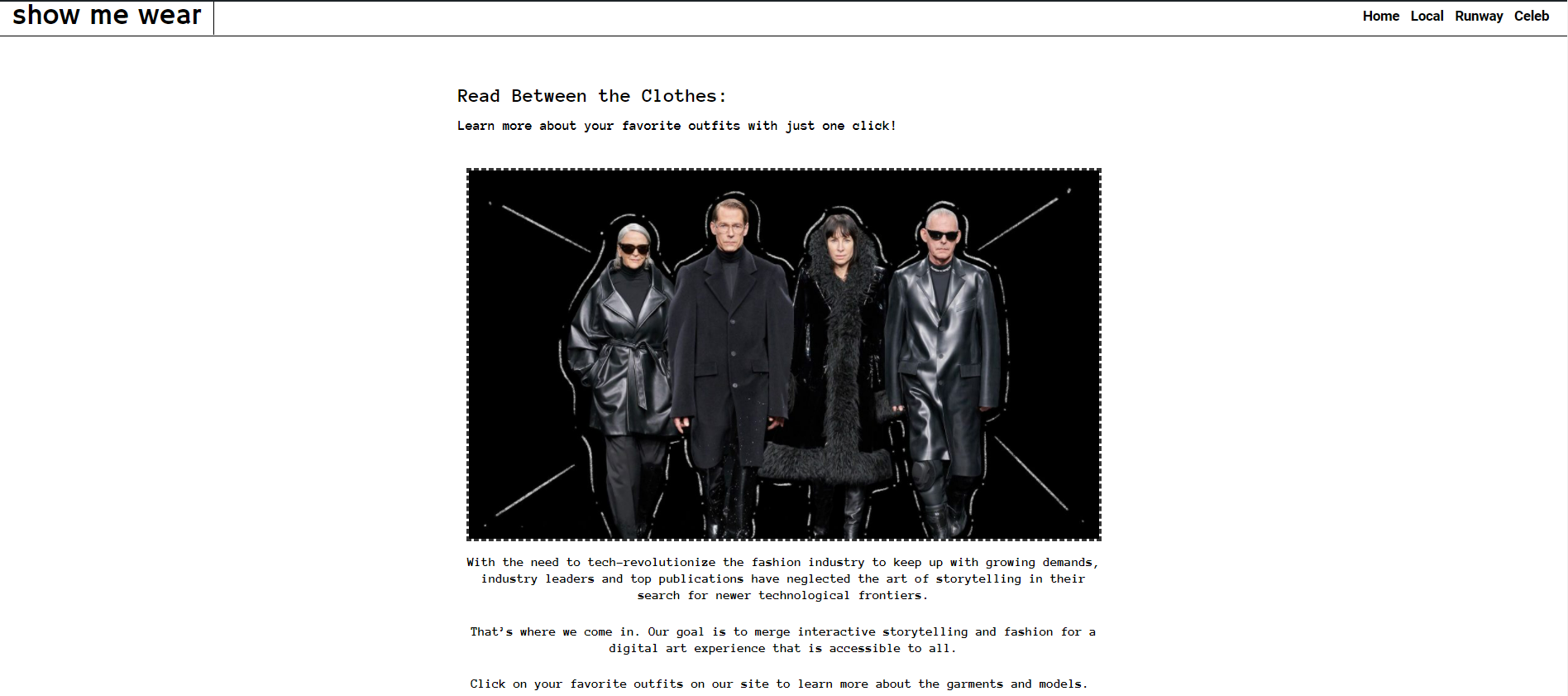 5. OUTLET
Group Members: Aaron Williams, Eric Rizal Seow
OUTLET is working with the Dallas Morning News to find out how non-fungible tokens (NFTs) can help news organizations in their endeavors. Through this project, the team hopes to be able to help Dallas Morning News discover new information about NFTs and possibly incorporate NFTs in their news organization through the creation of an NFT marketplace.
Read more about the OUTLET project here.
6. Game Changer
Group Members: Claire Coburn, Jaxie Pidgeon, Rankin White, Zach Dimmitt
Game Changer will ultimately be a website that serves as a one stop shop for all information regarding name, image and likeness in college sports. According to a research survey conducted by the project team, as well as their own personal experience, there are a lot of confusion from fans, coaches and athletes about what exactly they need to know. Game Changer will serve to bridge that gap.
Read more about the Game Changer project here.