The Facebook messenger bot for DFW's high school sports
Four of our capstone class students, Esther, Liliana, Connor and Eric, worked together throughout the fall 2018 semester to create PressBot. PressBot is a Facebook messenger bot that allows you to pick your favorite high school teams and receive scores from their games.
In December, the team of students pitched the product to the Dallas Morning News. During the meeting, the team worked with reporters, editors and product developers from the newsroom to go over the general product, its code and any business aspects.
To see the perspectives from our student team, check out their blog posts linked below.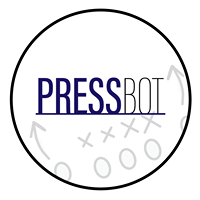 From the field to your pocket — PressBot
PressBot: The AI with a Passion for Sports