How a podcast about 'adulting' found its independence
Through our capstone class, Daniela, Jasmine and Brooke came together and created the podcast known as Young & Confused. The podcast helped explain topics that twenty-somethings would find interesting. This meant anything from dating, to money to roommates. Over the course of their initial semester together, the group created three episodes.
After finishing the class in the fall of 2018, the team decided to continue their podcast as an independent study through the School of Journalism, even though Brooke had graduated in December. Throughout the semester, Jasmine and Daniela documented their experiences in writing. Here's what they had to say.
---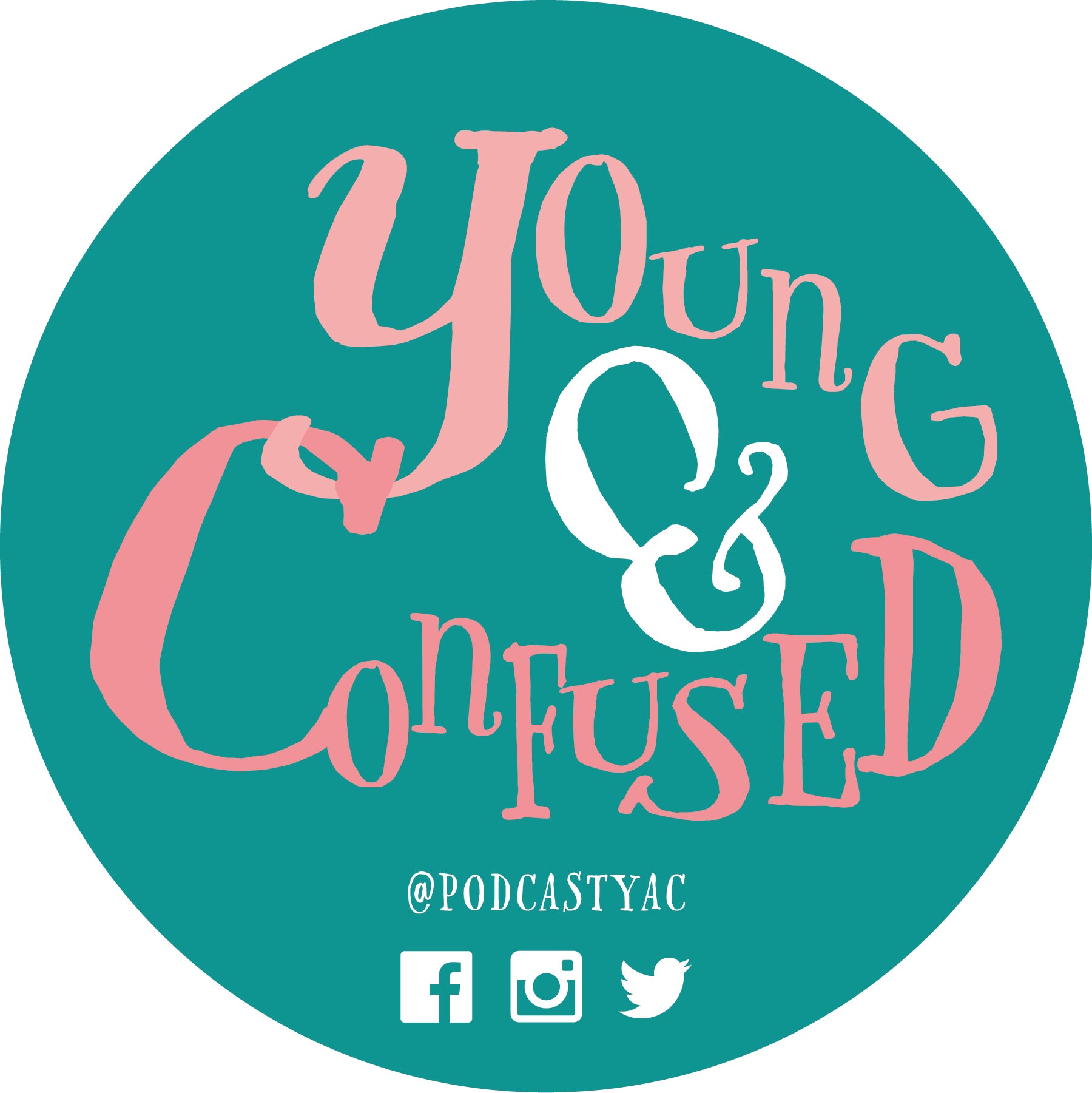 Running a podcast 101
Turning a class project into an independent product
By Jasmine Valencia
The conversation of the young and confused adults-in-training had all started in a classroom of stressed college seniors and an enthusiastic professor ready to see us work. That is the place where the idea of the Young & Confused podcast was born.
As part of the Digital Innovation Capstone class, we were to form groups and create a digital product from scratch—including marketing and design. I met my partners, Daniela Granados and Brooke Sumners, and we decided to create a podcast about the struggles of adulthood through the lens of a young twenty-something. We figured that the topic of growing up could expand into so many different topics that we could constantly discuss, and we were super excited to find our flow of conversation with it. We started with three episodes for the first season. The topics were about dating, voting, and money—all with funny personal stories and anonymous stories from our listeners mixed in. That semester, we had developed our episode style, a staple logo and a social media presence.
With Young & Confused coming to a close as a project, we were still so excited about the vision of where it could go and were insistent on continuing it. Dani and I, still having a semester left before graduating, decided to submit a Young & Confused proposal to be accepted as an independent study with the School of Journalism. Dani and I had brainstormed a whole array of topics we could cover that were connected to the ever-changing struggles of millennials.  
This spring, we started our second season ready to work and with a bunch of goals we were aspiring to hit. This included creating an official episode intro, expanding our social media presence, and creating at least five more episodes.  Even though our partner Brooke had graduated, she still was willing to help host the show. So far, we have created an episode about Valentine's Day, roommates and friendships and are set to create some about social media and drinking culture. This independent project has allowed us to branch out and have more creative freedom with our podcast show. Making this project an independent one was exactly the push we need to continue our vision for our show and inspired us to do even more. We are young and confused, but if we can create a podcast, anyone can.
---
Still Young and Confused
By: Daniela Granados
As we entered the new stage of Young and Confused, we were super excited to expand our project. We knew it would be different, especially because we would no longer all be meeting once a week working on the podcast. Still, we were motivated by the success of the fall semester's results to continue our series.
One of the most impactful changes was gaining complete control over how we approached the continuation of Young and Confused. When we first met at the beginning of the semester, we decided that we had to create a plan, just like we had to the previous semester. Creating the plan was easy. However,  we all knew that keeping to that plan could be challenging, especially because Brooke was no longer a student, and all our schedules changed. 
We chose topics to cover, the number of episodes to create, and established publishing cycles. It was a structured plan, but one we could all work with and make accommodations if needed. As we returned to our producing and recording, it started to feel more like a routine. Our first couple of episodes seemed to flow, and doing it almost felt innate. Plus, we were having fun.
Even though we were working under a routine, we still had goals and improvements we wanted to accomplish. One of those was to redesign our podcast's visual design. Jasmine and Brooke took the lead on the creative aspect but still reached out to me to provide input. New colors and new designs seemed to please our followers and helped market our episodes. 
We also integrated a formal intro into our episodes. This was an idea that had been thrown around at YAC's early stages, but it never actually developed. After countless ideas and methods, we decided we wanted something that represented the podcast in the most holistic way possible. As of episode five, you can now hear the 16-second introduction. The goal of this was to help push our brand and make us sound more professional. I don't really know if we will accomplish that. But as the editor of YAC, I think it's funny and catchy!
Our third biggest change this semester, was the reimagination of our guest segment. We learned from our focus group that although they appreciated an expert talking about a respective topic, they didn't want to feel lectured. They mentioned to us that any guest, even someone our age, could provide information or stories that would be pleasant to hear. I remember them telling us that they wouldn't mind listening to a fourth person, especially when that fourth person could bring in a different voice or perspective. So, we took that into account and reached out to people we knew who could tell us about their experiences dealing with relationships and living arrangements. So far, it's proven to be easier to find a guest host, and when we record, it feels way more casual.
Eventually, we began to see how quickly we were working and producing. It seemed like we could produce more episodes than we had planned for in January. So, we decided to slow it down a bit but still follow our routine as best as possible. Our goal changed from producing a total of eight episodes to 10. We were anxious that we had to produce more content, but we were equally excited to get to spend more time together talking about the misadventures of learning how to adult. Even though we were older and more educated, we could find comfort in still being young and confused. And for now, we're okay with that. (sorta)
---
A Bittersweet End
By: Jasmine Valencia
As we are nearing the end of our undergraduate careers, our senior project of Young & Confused is also nearing the end of season two. We have now published our last two episodes: Young & Connected (all about the social media addiction of our generation) and Young & Tipsy (some tipsy talk about drinking culture in college). We did reach our goal of rolling out five more full-length episodes, and I must say we are really proud of what we have built. 
This podcast became much more than a project. It became a passion for me and for my partners as well. This podcast become our baby. We watched it grow. I have learned so much from my co-creators, Dani and Brooke, during this experience. As a group we were all so different, yet we were able to sit down and share our thoughts and experiences. Through this experience, we became friends and have learned so much more about the producing process.
Podcasting is the one of the fastest-growing platforms and one of the best ways to share ideas and learn more about topics one could be unfamiliar with. Podcasting is a community. We met a lot of people in that community at this year's annual Tiny Texas Podcast Festival. It was so great to be listening to live podcast recordings, like the recording of "To and Fro," and hearing people like Ivy lee, a member of WOC podcasters group, talk so passionately about creating a space in the world for yourself on one of the panels. We learned firsthand so much about what it takes to create a podcast; audio equipment, finding guests, branding and promoting one's' show is just a small part of the full production.
Young & Confused was a funny guide of learning how to be an adult, and even though Dani, Brooke, and I may joke about it, I really think this podcast taught us much more about ourselves and how to really find yourself in a crazy adult world. Even though our journey on the Young & Confused podcast has ended, we may never stop being young and confused.
 
Listen to Young & Confused