In 2001, the Austin American-Statesman sat on the precipice of change, although many in the newsroom didn't know it. The Statesman, as it had for its previous 130 years, still bought ink by the barrel and ran gigantic presses every night, but Christian McDonald spent his hours in the newsroom typing in code. 
Although he spent his early years working as a traditional print journalist, he had become employee No. 1 of statesman.com. His flexibility and eagerness to learn new things made him a mentor to countless journalists at the Statesman, including to me. I worked alongside him in the newsroom for more than a decade, and I always saw him as the nerd who could solve your problems through his patient teaching. Don't worry - we're friends, and Christian likes being called a "nerd."
"I look at this term of 'news nerd' as a term of endearment," Christian said. "There's a group of people that would rather clean data than play video games because that's just the way we are wired."
That wiring, and Christian's passion, will translate amazingly well into his new role as the Innovation Director for the University of Texas' School of Journalism and Media. I say this not only because I know Christian well, but I had that job for the past four years before moving on to be the Associate Director for the school. Christian is uniquely qualified and suited to lead our school's innovation efforts, which are possible thanks to a $1.5 million gift in November 2015 by The Belo Foundation. The gift established The Dallas Morning News Journalism Innovation Endowment, which gives countless students a chance to work on digital media projects.
"I have always had a passion for the intersection of journalism and technology, and this role fits within that well and will allow me to explore that further and build the same passion for similar projects with students," Christian said.
I left the newsroom for UT in 2011; Christian joined the faculty as an adjunct in 2013, and he's now in his third year as a full-time faculty member after a 28-year journalism career, teaching data and coding classes. He has always stretched the boundaries, seeking new ways to practice and teach journalism, and this new role will give him a vehicle for spreading innovative ideas.
Christian told me he's interested in exploring using drones for journalism, building news applications and visualizations and testing out how virtual reality and augmented reality could be used for news.
"I really just want to tell good stories," he said. 
In the years I was Innovation Director, I guided students on projects in collaboration with news organizations such as The New York Times, The Dallas Morning News, the Austin American-Statesman, Univision, KUT and more. Christian wants to continue collaborating with news organizations.
"I want them to experiment with storytelling techniques that news organizations might not have the time or space to do on their own," he said. "Students get to work with these organizations and build professional relationships. They get to explore technologies that they might not otherwise explore to the same degree that they get in their classes."
Christian's first project is to work with about a dozen students on a data project with The Dallas Morning News to tell the stories of underserved communities in southern Dallas. He has already connected with News Vertical Editor Beth Frerking and Director of Digital Strategy Nicole Stockdale at The Dallas Morning News to come up with ideas and direction for the students. The students will run with it, with Christian's steady and enthusiastic guidance.
The Dallas project is a tough one - these underserved communities have many needs, and there's an ocean of data out there. True to his nature, Christian is looking forward to the challenge.
"I really like the puzzle ... being able to figure out the parts of a puzzle when it comes to data and technology," he said. "I get super passionate about that, and I think students feed off that, and they also want to experiment and try new things and learn technologies that they might not feel comfortable learning. But they are perfectly capable of learning that stuff, too."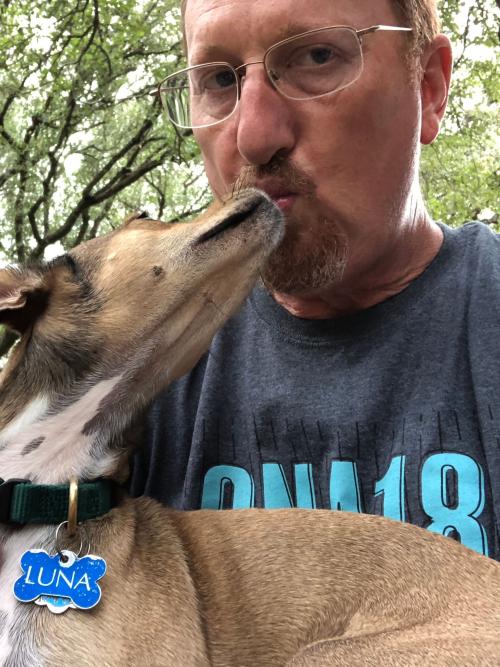 Christian McDonald spends some quality time with his dog, Luna.