The story of how we took a trip to meet the best podcasters in the business.
By Kelsey Whipple
Feb. 4, 2019
The innovation team at the Journalism School is full of podcast junkies. We listen to more than 100 podcasts between us. Although the previous sentence likely makes it seem like a wonder that we talk to each other at all, we do, I promise. Predictably, we talk a lot about podcasts. Our passion for podcasting has led us to launch the Tiny Texas Podcasting Festival (now in its second year), a guest lecture from Washington Post Director of Audio Jessica Stahl (coming up on Feb. 19) and a podcast production team here at the J-School. As we prepare for all of these podcasting projects, Innovation Director Robert Quigley and I took a trip to New York to visit, meet with and learn from some of the people behind our favorite podcasts.
During our trip, we met with the podcasting teams at The New York Times, Slate, Gimlet Media and Pineapple Street Media. We also visited Hangar Studios, a podcasting production house for audio addicts without their own home base, and ABC News Radio, where we met with audio producers and podcasters.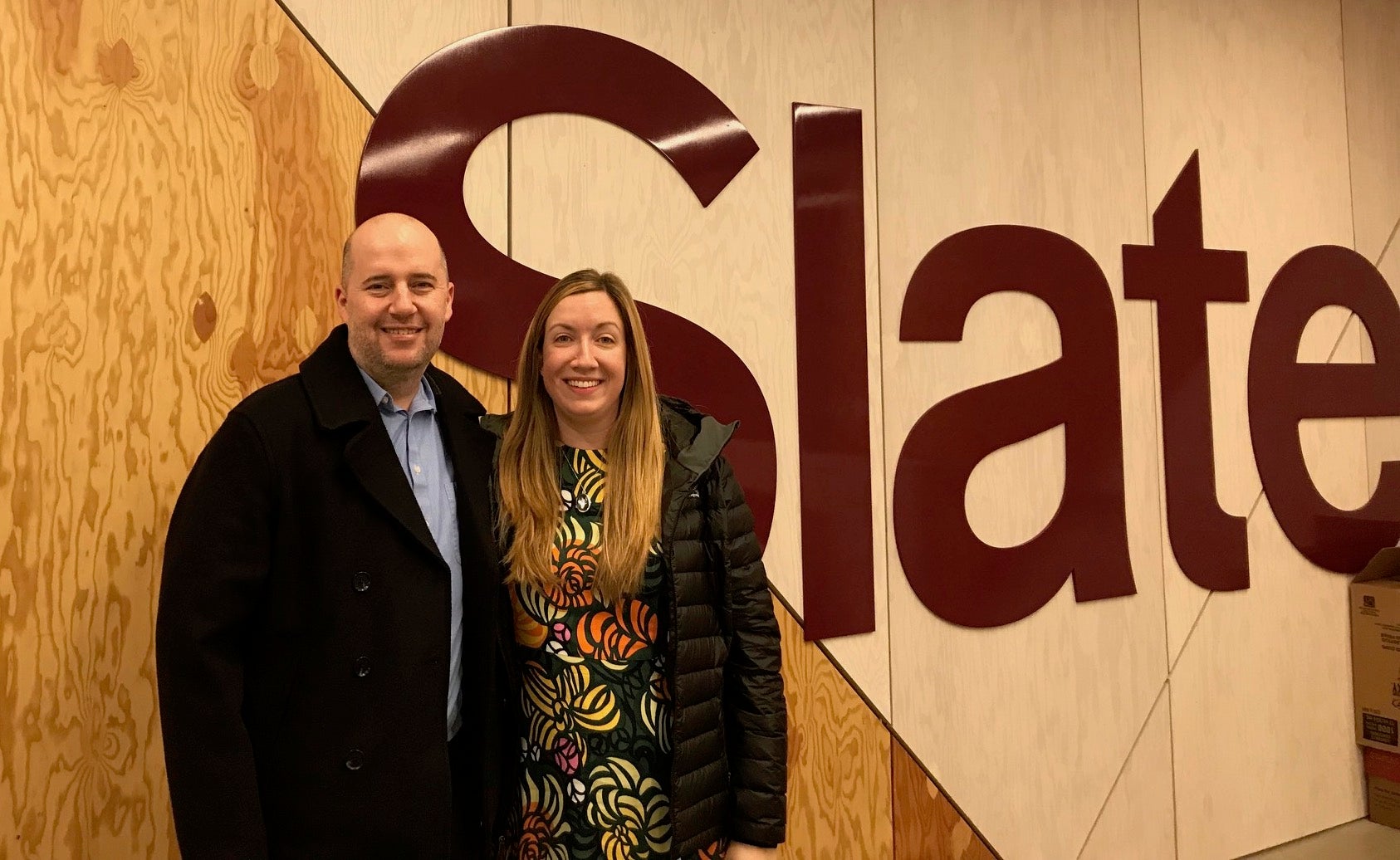 Along with meeting some of our favorite voices, such as Slate's June Thomas and Gabriel Roth, Gimlet's Alex Blumberg and Pineapple Street's Max Linsky, we learned a great deal about what it takes to conceive of, create, produce, edit and record a long-term podcasting project. Our meetings gave us insights on how to create an ideal audio team, how to tackle feedback throughout the creative process, how to develop scoring skills and how to adapt to the changing industry. These lessons will serve us well as we build our in-house audio production team, which we have named The Drag. It is led by Audio Directors Tinu Thomas and Haley Butler, who are working on our first podcasts produced by The Dallas Morning News Innovation Endowment. (No spoilers yet, but we're pretty excited about it.) Wish us luck!
Finally, I'd like to give huge thank you to everyone who took the time to meet with and guide us during our trip to New York. Your suggestions are guiding our team of young journalists on their first foray into podcasting.
And, of course, this blog post wouldn't be complete without a couple podcast suggestions. Here are our recommendations for podcasts to download from each of the companies we met with in New York. There's a reason they are some of our favorites.
New York Times: The Daily, Caliphate, The Argument
Gimlet: Reply All, Mystery Show, The Habitat
Slate: The Political Gabfest, Slow Burn, The Waves, Decoder Ring
Pineapple Street: Missing Richard Simmons, Surviving Y2K, Heaven's Gate
ABC News: A Killing at the Cape, The Drop Out
---
Click here to return to our Year of the Podcast blog.